Vietnamese seafood producers are facing slow export growth and a shortage in material, after the US Department of Commerce levied higher tariffs on export of frozen pangasius fish fillets, effective from August 1, 2010 to July 31, 2011.
Figures by the Vietnam Association of Seafood Exporters and Processors show that export turnover of the country's seafood industry merely touched US$6.2 billion last year, compared to a target of $6.8 billion. With a growth rate of nearly 1 percent, last year was considered the worst year for the local seafood industry in recent years, as breeding, producing, and exports, all faced difficulties.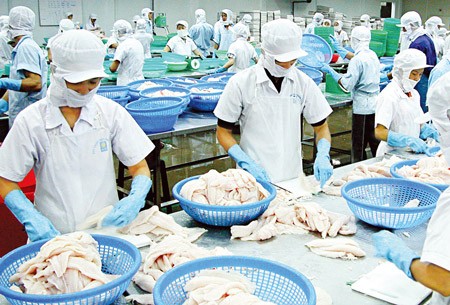 Workers process pangasius fish fillets for export. (Photo: SGGP)
Breeders struggled with fluctuating prices and diseases since the beginning of the year, causing a decline in shrimp crops. Meanwhile, firms faced a financial crunch, shortage of material, and were forced to operate perfunctorily or even run the risk of bankruptcy.
Last year, demand from the EU market, the major market of Vietnam's seafood industry, sharply fell due to the region's sovereign-debt crisis, so the US market officially became the biggest seafood importer of Vietnam with import value of more than $1 billion, up 6.7 percent year-on-year, accounting for 20 percent of the total seafood export turnover of Vietnam.
Meanwhile, seafood export value to the EU market dropped 14.6 percent and merely accounted for 18.7 percent of the total seafood export turnover of Vietnam. Of which, four biggest importers consisting of Germany, Italy, Holland, and Spain posted a sharp drop of 15-17 percent.
In Asian market, seafood export to Japan showed positive growth with more than 15 percent but Vietnamese firms have gradually lost competitiveness against other countries, such as India, Thailand, and Indonesia.
Business results of seafood companies in 2012 were rather gloomy. Among 21 listed seafood companies, there were 12 companies with revenues declining compared to the same period last year, and 17 companies with post-tax profits dropping.
In general, revenues of seafood companies fell 7.7 percent and post-tax margins plunged 35.7 percent while overheads climbed by 15-35 percent. Especially, epidemic diseases and the cost for ethoxyquin check also made the cost price of shrimps increase significantly. Moreover, breeders and seafood producers were unable to access low-interest loans, which affected production and export activities.
As a result, stocks of seafood companies were no longer given priority by investors. Many stocks fell to below face value, including CMX, TS4, ANV, and FBT, while AVF, VHC, AGD, HVG and AGF were stricken by high anti-dumping tariff on pangasius, by the US Department of Commerce. Equities of seafood companies are therefore expected to decline drastically in the near future.