The Ministry of Agriculture and Rural Development estimates that Vietnam needs to invest over VND24.5 trillion (US$1.2 billion) for further development of the seafood processing industry by 2020.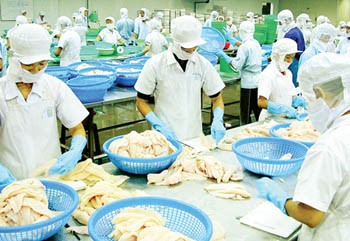 Workers processing seafood at an export unit in the Mekong Delta province of Dong Thap (Photo: SGGP)
According to a plan approved by the Ministry, about VND13.4 trillion will be invested in the first phase 2011-2015 and the remaining amount in the second phase from 2015-2020.
The capital amount will be mobilized from bonds, company shares and preferential loans from the State.
As per the plan, by 2020 seafood exports will touch about two million tons per year with an annual growth rate of 3.5 percent and the export turnover is estimated to be US$10 billion, with an average growth rate of 7 percent each year.
Meanwhile, the domestic output is estimated to reach 950,000 tons, to grow at an average rate of 3.3 percent each year.
Total processing capacity of the seafood industry will be 2.1 million tons a year and the growth rate of value added products will be 60-70 percent.
The country seafood export turnover was US$4.4 billion in the first three-quarters of the year, an increase of nearly 27 percent over the same period last year.