After 10 years of continuous growth, seafood exporters have reported losses for the first time this year and for farmers this is the second consecutive year of losses.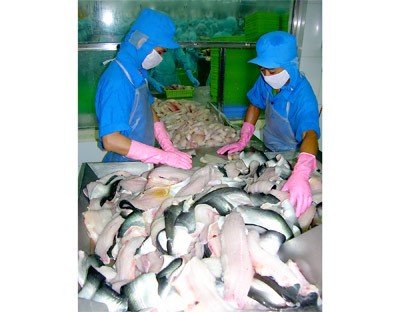 Workers process tra catfish for export at the Binh An Seafood Company in the Mekong Delta. Experts say the Vietnamese government should focus on sustainable development to ensure a robust seafood sector (Photo: SGGP)
Though demand for seafood has increased in the year-end period, prices of tra catfish have remained low in the Mekong Delta.
 
Luong Van De, a farmer in Can Tho City's Thot Not District, said he had just sold over 50 tons of catfish at VND14,500 per kilogram. After deducting expenses, he incurred a loss of over VND100 million.
 
Mr. De said his loss is "modest" compared to other farmers in Thot Not who have lost hundred of millions to billions of dong since early this year.
 
Exporters are now in the same boat. Enterprises in An Giang and Dong Thap provinces, and Can Tho City have been unable to meet targets.
 
Many suffered heavy losses after losing the Russian market in the beginning of the year. They have not been helped, moreover, by cheap export prices and a shortage of supply.
 
And while tiger shrimp sell for high prices, production hasn't kept pace.
 
At present, factories that process shrimp for export in Ca Mau, Bac Lieu and Soc Trang provinces have faced a severe shortage of the seafood, bringing exports to a standstill.
 
Ly Van Thuan, general secretary of the Ca Mau Seafood Processors and Exporters Association, said seafood exports in Ca Mau Province are estimated to reach only US$630 million in 2009, $35 million less than targeted.
 
He said seafood farming in the country had receded and as a result, processors have faced a shortage of shrimp and high prices.
 
Causes and solutions
 
After a booming decade of seafood farming in the Mekong Delta, the industry is now showing signs of stagnancy.
 
More and more farmers have left their farms while enterprises in Dong Thap and An Gaing provinces have sold their factories due to losses.
 
Nguyen Van Dao, director of the Go Dang Seafood Company, said, "Many made a mistake in thinking that seafood export is a highly profitable business. They thus invested billions of dong to build factories but many didn't have knowledge about the industry or the ability to effectively operate."
 
"By selling seafood of poor quality and engaging in disorganized or unscrupulous business practices, they have damaged the reputation of the country's seafood sector," he added.
 
Mr. Dao said now is the time to restructure the country's seafood farming and export industry. There should also be strict regulations for building factories, he added.
 
To avoid unhealthy competition, only enterprises that have the capacity, markets and quality products should be allowed to export, Mr. Dao said.
 
Vietnam's tra and basa catfish have dominated the global market, but experts say the Government should reorganize the country's seafood industry to support sustainable development in farming, harvesting, processing and export.