The seasonings manufacturing industry is rarely given any importance and is not even mentioned as a field of business, however, during the present economic situation it has shown that it has great potential and can be developed to suit consumer taste.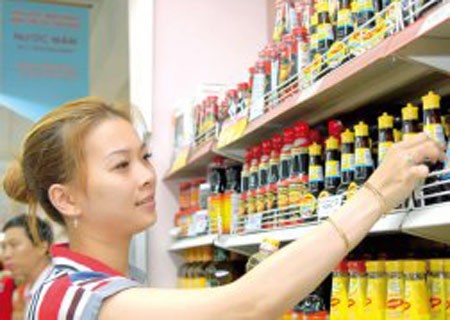 A consumer chooses seasoning products at a supermarket. (Photo: SGGP)
Seasoning is an essential product on the table of a normal Vietnamese family. With demand increasing more strongly by the day, and the domestic food industry developing swiftly at an annual pace of 150-200 percent in the past few years, seasoning as a product has great potential in Vietnam.
According to market forecasts, the number of consumers buying foods in supermarkets will rise by 150 percent each year as more consumers have started looking for distribution channels that supply safe and hygienic foods. The development of supermarkets will create favorable conditions for domestic seasonings market to grow robustly.
Currently, this market segment has welcomed various companies, such as Ajinomoto, Unilever, Masan, Truong Thanh, and Cholimex. Some retailers like Co.opMart and Big C even have their own product lines to attract consumers.
From 2011, seasoning granules Knorr by Unilever and Maggi by Nestle entered Vietnam's seasonings market in tandem. Earlier, Ajinomoto and Vifon had held fierce competition for market share. According to a research conducted in 2003, Vietnamese market consumes around 10 million liters of soya sauce and about 1,500 tons of seasoning granules every year. Since then, there has been no other research in this market, but only a non-stop development of seasoning products, which makes it easy to realize that demand for the product is quite high.
There are more than 100 trade brands in the seasonings market currently. Thus, most people think that supply has met demand. However, seasoning producers say that seasonings consumption by Vietnamese families barely reaches average levels, so they can still achieve more.
According to Le Quang Thuc Quynh, Marketing Director of Co.opMart, seasonings have an impressive growth rate. In the first half of this year, sales of seasoning products increased by 80-150 percent compared to last year. Seasoning producers have also promoted creation of various convenience seasoning products for familiar dishes such as Pho and Hot Pot, with different flavors to serve every consumer.
Surveys by supermarkets showed that consumers' preference for same products by different producers was mostly even. However, most consumers were said to choose products that are advertised a lot or showcased at eye-catching spots or run with promotional programs. Therefore, many seasoning producers said that local ones were overshadowed by foreign ones in this competition as they have not popularized their brands widely.
An advertising company revealed that the cost to advertise a new product at supermarkets and markets is never less than VND3 billion. Some brands even spent up to VND7 billion for advertisements. Thus, local seasoning producers are hardly able to compete with foreign ones due to a shortage of capital.
However, it is noticeable that most domestic seasoning producers mainly develop locally instead of nationally. But recently, Vietnamese companies have begun to take advantage of local specialties to have the upper hand. As a result, Phu Quoc and Phan Thiet fish sauce brands have won a majority of market share than other widely-advertised products. This shows that Vietnamese producers still have many opportunities to win back the local seasonings market.
At present, there are no standards to determine the class of seasoning products so the market and consumers merely distinguish by producers. Hence, they consider foreign-made products as high quality and domestic-made ones as low quality although the difference of price between the two products is marginal and price of some domestic-made products are even higher than foreign-made ones at times.
Moreover, the quality of most foreign-made products cannot be verified. Their advertisements are all hype, praising products to the skies and smearing those of rivals, counter influencing consumer sentiment. For this reason, the seasonings market is in dire need for a framework to control quality and advertising so as to develop competitively in a fair business environment.