The Ministry of Finance and the Ministry of Industry and Trade have decided to reduce the price of petrol by VND600 per litre from 3.30pm Wednesday.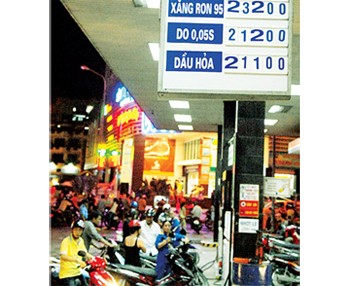 Petrol prices were reduced on May 23 (Photo: SGGP)
One litre of A92 petrol will now cost VND22,700 and a litre of A95 will cost VND23,200.
Price of diesel and kerosene will also decrease by VND400 and VND300 per litre to cost VND21,200 and VND21,100 per litre respectively.
Engine oil price will also be reduced by VND300 to cost VND18,900 per kilogram.
Besides, there is also an increase of 4 per cent on the petrol import tariff, from the current 2 per cent. Rates are also up by 1-2 per cent on diesel, kerosene and engine oil.
 
This is the second reduction in petrol prices since the beginning of the year; the last drop was by VND500 per litre on May 9.
Earlier on March 7 and April 20, petrol price hiked two times, totaling a hike of VND3,000.
Last year, domestic petrol price saw an increase three times, in February, in March and a slight reduction of VND500 in April.