The second Viet Nam Ideas Exchange will be held at V3 coffee shop 80-80A Nguyen Thi Minh Khai Street, District 3, Ho Chi Minh City, on December 3. The Viet Nam Ideas Forum will earlier take place at the Youth's Cultural House of Ho Chi Minh City on November 25 aiming to answer some questions, such as how to protect your idea, how to persuade enterprises to invest in your idea and so on.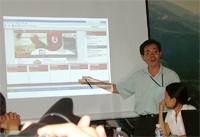 Presenters will have 10 minutes to introduce their ideas. (Photo:TNO)
The forum is expected to gather nearly 100 HCMC's leading enterprises, 50 people who have innovative ideas, two banks, 10 law companies and hundreds of students and young people.
The organizers will provide information and call for idea investment in each specific field before the second Viet Nam Idea Exchange starts.
The second Viet Nam Idea Exchange includes 10 ideas selected among 60 projects. Authors will present their ideas in 10 minutes only and then answer questions.
The organizers will provide presenters with equipment and draw up memorandums. Six banks will appear for answers and questions about the financial solutions.
The second Viet Nam Idea Exchange will be led by two representatives of the oragnizing board including director-general of Vietbooks Le Tran Truong An and Hoang Quoc Viet, director-general of Nguyen Hoang Informatics Co. The third and fourth exchanges will be held in Ha Noi and Can Tho.

Related article:
Matching Creators and Entrepreneurs