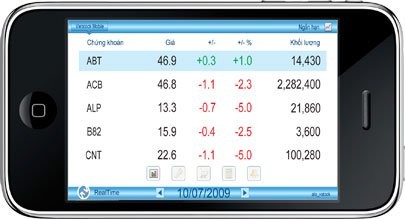 VietstockMobile software on an iPhone (Photo: Saigon Times)
Securities firm Vietstock Co. said it plans to develop software that can also provide financial information on Blackberry and iPhone cell phones in addition to the existing Nokia's E- and N-series.
The firm said it would supply information on both domestic and international financial markets.
Investors can access trading results and graphs for the domestic market and listed companies, according to the company.
This version would also provide information about the gold market, it said.
The company began using the software in May when it began sending information to Nokia E- and N-series phones.