Nguyen Van That, 30, created an orchard co-operative with an annual revenue of VND1 billion (US$ 47,600 ) in the Mekong Delta province of Hau Giang.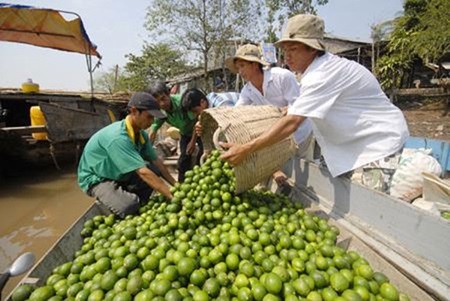 Workers from the Thanh Phuoc Agricultural Co-operative in the Mekong Delta province of Hau Giang transport seedless limes to sell at the wholesale market. — Photo nld.com.vn
He received the "Creative Young" award from the Central Youth Union in 2012 for his accomplishments.
Last year, Chau Thanh District's Thanh Phuoc Agricultural Co-operative provided more than 200,000 seedless lemon seedlings to local farmers and bought 60 tonnes of fruit. The seedless breed of lime has become increasingly popular.
It employed 20 local labourers, paying salaries of VND3 million ($140) a month. Thanh Phuoc buys about a tonne of fruit per day at VND30,000 per kilo to sell to supermarkets and wholesale markets in the south. It also exports to Middle Eastern and European countries through local ex-import enterprises.
Last year, That invested a large portion of his own money into the co-op to install an international-standard cold storage system and drying room.
He said seedless lemon trees were ideal because they were easy to grow, difficult to destroy and could be harvested year-round. The co-op harvests an average of 30 to 40 tonnes per hectare.
The price fluctuates between VND20,000 and VND30,000 per kg, earning a net profit of VND400 million ($19,000) per hectare. The co-op has 84 member farmers with a total of 97 hectares, all of whom have met VietGAP and GlobalGAP fruit-planting standards since 2012.
To reach the standards, member farmers take technical training courses on fertiliser and pesticide use. The co-operative supplies farmers with high-quality seedlings and subsidises to keep their fruit at the same value as the local markets'. There is a lot of demand abroad for bearss lime fruit, but the co-op can't keep up with import-export enterprise demand. So it suggested Hau Giang southern province's People's Committee open a 200ha pilot field to grow more.
The co-op would assist with seedlings, the production process and purchasing fruit.
This year the co-op plans to order 400 bearss lime trees from the Southern Fruit Research Institute, aiming at expanding high-quality seedling production.
In 1999, That's father purchased 11 bearss lime trees imported from California by a local enterprise. His father decided to grow the trees on his family's land. During the first few years they harvested beautiful fruit, but couldn't find a market for it.
"This kind of fruit is still strange to local people," That said.
In 2005, That graduated high school and had to decide between attending university and helping his family with their farm.
"After I spent a month thinking about what would be best for my family financially, I decided to stop school and help my family," he said. "My parents gave me advice about different ways I could do the best in the future. I got encouragement from family and friends to develop bearss lime trees."
That and his father visited supermarkets and whole-sale agricultural enterprises to introduce them to seedless limes. They paid to take part in the South's agricultural exhibitions, because they found it was the best way to bring fruits directly to consumers.
That and his father also gave seedlings and guidance on technology to several neighbours also growing lime trees.
"Sometime we want to give up, but we see the potential the orchard has," That said. "We encourage each other and that brings success."
Nguyen Thanh Tung, secretary of Doan Dong Phuoc Commune, said That had helped many young people find success caring for local land.
"That is hardworking and has a passion for developing fruit trees," Tung said.