Times Square, Royal Garden and Saigon Peninsula are three striking real estate projects in Ho Chi Minh City that will be financed by three Vietnamese banks that are undertaking a union process.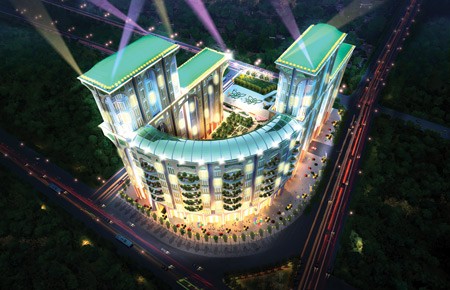 Royal Garden
This was announced by Le Hoang Chau, chairman of the Ho Chi Minh City Real Estate Association, Dr Lee George Lam, vice president of the Hong Kong Association for the Advancement of Real Estate, and Ficombank chairwoman Nguyen Thi Thu Suong during an introduction of the three projects at Windsor Plaza Hotel in Ho Chi Minh City December 12.

Times Square
The three banks are the First Commercial Bank (Ficombank), Vietnam Tin Nghia Bank and Saigon Commercial Bank (SCB).
Just before the introduction, the State Bank of Vietnam announced that the three banks, at their request, were allowed to unite into one.
The three property projects – Times Square, Royal Garden and Saigon Peninsula – are all mainly designed by Kent Lui, a well-known architect in Asia and CEO of Kent Lui Tactics in Hong Kong.
Situated in the heart of Ho Chi Minh City's District 1 with frontage on Dong Khoi and Nguyen Hue streets, this stunning 39-storey property will cover more than 4,500 square meters, designed as an integrated tower with a five-star hotel, apartments, a business center, shopping mall and entertainment facilities. The hotel will also serviced residences enjoying dramatic views of the Saigon River and the city skyline.
The project owner is Times Square (Vietnam) Investment Joint Stock Company. It expects the property to be a landmark in the heart of Ho Chi Minh City. On the occasion of each year-end, it would be a place for countdown during the New Year Eve, with a laser light performance.
Royal Garden is a high-rise apartment and shopping mall building in Tan Hung Ward, District 7. The commercial center project will include more than 1,000 apartments and residence suites that will include two to four bedrooms each. The penthouses will cover 500 square meters each, with 4-5 bedrooms and a hot water swimming pool.
All apartments and suites will be linked to the lobby on the ground floor via separate lobbies. In the middle of the tops of the two towers will be a 1,800- square meter park. The ground floor with 20,000 square meters will be a commercial center.
Other facilities will be clubs, karaoke, spa, feast hall, gym, swimming pool, library and children's playground. There will be a 50-meter-long swimming pool up to Olympic standards on the top floor that would be opened all 365 days in year.
The project owner is Tan Thuan Nam Ltd. Co.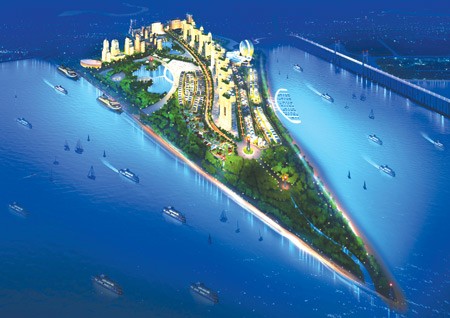 Saigon Peninsula
Also in District 7 will be Saigon Peninsula whose project owner is Dai Truong Son Joint Stock Co. The project location is near Phu My Bridge, close to the Saigon and Nha Be rivers. It will be convenient to travel to the city's center and District 2. The property will include luxury villas and apartments, theme park, offices, hotel, shopping mall, a yacht pier and a tourist wharf.
The ground floor will include the shopping mall. Villas will stand behind it. The residence quarter and the conference center will be in the west. The property will supply more than one million meters of finished floor. The designers also mean to preserve the nature of the peninsula area, with greenery and trees untouched. A countryside setting will be up around, together with a museum and temples.