Corporate specialists shared experience in developing the finance and auditing staff at a Tuesday workshop in Ho Chi Minh City.
The UK-based Association of Chartered Certified Accountants (ACCA), a leading international accountancy body, held the "Finance Professionals for the Future" seminar for human resources and finance managers from auditing firms, banks, fund management companies and multinationals in Viet Nam.
According to the seminar, Viet Nam is facing a serious shortage of finance professionals, and about 200 among 1,000 finance professionals in the country hold an internationally standardized degree.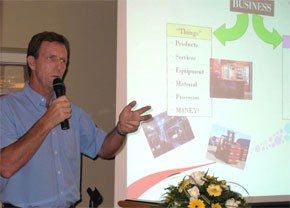 Ferdinand Steffens talks about Coca-Cola's recruitment and training (Photo: Tuong Thuy)
Ferdinand Steffens, human resources director of Coca-Cola Vietnam, one of the guest speakers, delivered his presentation on how Coca-Cola gets skilled employees.

"The first is to recruit the best fit for the job," said Steffens, who has been with Coca-Cola for 7.5 years, initially in South Africa.
"Next is to start the employment relationship with the end in mind that what skills are required for the job and where are the gaps," he said.
Coca-Cola has a rigorous talent development program to enhance the potential competencies of its employees and track their progress, and the program is the third step, said Steffens.
Jamie Lyon, a business relationship manager with ACCA UK, said competencies have become particularly important in the finance profession over the last five years.
He said, "It is essential that organisations maintain up to date and effective competence frameworks for their finance professionals, constantly stretching their technical ability and management capabilities."
Calum Matheson, BP Vietnam's Finance and Control Director, talked about his company's finance and auditing staff. He said that due to the right human resources development policy, BP Vietnam has the qualified staff.
"Eight years ago we had five finance and auditing expatriates, today one. Eight years ago we had no local qualified staff, today we have ten staff holding ACCA certificates."
He implied internationally accredited certificates issued by ACCA.
"Of these ten, five are on overseas development within the BP Group and the other five are in key positions in BP Vietnam."
The full-day workshop shared an idea that many Vietnamese accountants and auditors do not have enough English skills to work.
Francesca Riches, a specialist from the University of Cambridge, introduced to the seminar the Cambridge International Certificate in Financial English as a solution to this language problem.