Since early this year, several added costs and fees on cars have plagued the retail car industry, with sales dropping substantially.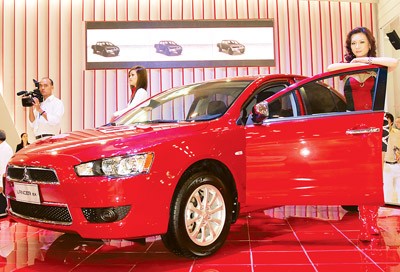 Car exhibition in Ho Chi Minh City. The retail customer is saddled with endless number of overhead costs while buying a car (Photo: SGGP)
The Vietnam Automobile Manufacturers Association sold nearly 15,000 cars in the first quarter of this year, a drop of 13,000 cars over the same period last year.
In March, the association sales tumbled by 50 per cent due to the proposed private vehicle ownership fee issued by the Ministry of Transport.
If sales reduce by 25 per cent as they did in February, March sales might total only 7,000 cars.
This means losing at least 2,000 customers. If each car costs an average US$25,000 plus 40-60 per cent tax, the State budget faces the menace to lose about $20-30 million in March alone.
After the Ministry of Transport brings into effect the road maintenance fee from June 1, the total number of fees imposed on car sales will amount to six. These include a registration fee, number plate fee, insurance fee, fuel fee and a petrol subsidy fee.
The Ministry of Finance has further increased registration fee on cars by 20 per cent in Hanoi and 15 per cent in Ho Chi Minh City. The number plate fee has also gone up ten times, to VND20 million.
Besides all these pile up of fees, each car imported into Vietnam will be charged import tax, special consumer tax and a value added tax.
Consumers will now pay four times more than original price to own an imported Toyota Yaris.
For instance, if an imported car costs a basic VND210 million, consumers will pay an extra 72 per cent in import tax, 50 per cent in consumer tax and 10 per cent in value added tax.
The car can then retail for VND658 million. When buying, consumers will pay VND132 million in registration fee, VND20 million to buy a number plate, and VND379,000 for insurance.
The total price of the car will then cost upto VND810 million, which does not include road maintenance fee, private vehicle ownership fee, fee to ply in the city centre and daily running costs.
According to the association, if Vietnam does not develop a car industry of its own, the country will have to spend $12 billion each year to import cars.