In response to a rumor that South Korea-based SK Telecom will stop pouring money into S-Fone, Ho Hong Son, S-Fone executive director, told the press August 24 that S-Fone service remains stable and has a sound sustainable development in Vietnam.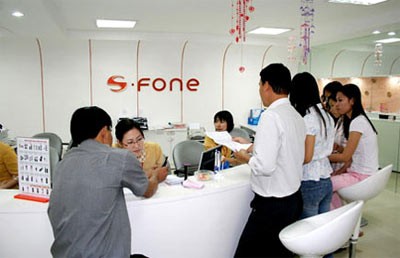 At an S-Fone branch in Ho Chi Minh City's District 1
However, he confirmed that there will be some changes in cooperation between Saigon Postal (SPT) – the Vietnamese partner in S-Fone - and SK Telecom to facilitate the cell phone service provider's development.

After six years, S-Fone is facing challenges in terms of technology, legal issues, management and funding.

In order to continue to develop, S-Fone needs to have new arrangements in cooperation, and the two sides have been in negotiation under instructions from the Government and relevant ministries and agencies, said Mr. Son.

At present, S-Fone is operating in the form of Business Cooperation Contract (BCC) between SPT and SK Telecom Vietnam (SKTV), and the two sides are negotiating to switch it to a joint venture.

Nevertheless, after over three years of negotiations, the two sides have not reached an agreement because SPT has asked SKTV for an investment before the joint venture is established, while SKTV wants to provide the investment after the venture is setup.

Though S-Fone has been appreciated for its efforts and creativity in designing many services and offering various charges, many experts said it is struggling to become a large cell phone service supplier.

The disagreement between SPT and SKTV in the S-Fone project has meant the company has lost many development opportunities.

S-Fone, the third cell phone service supplier in Vietnam, has yet to develop its strength after six years of establishment. It has 7.3 million subscribers, but only four million use the service.