The construction materials market has just received its first optimistic signs with business results in the first six months of the year showing slight improvement, however, poor demand, high inventory, and an increase in power price continue to challenge manufacturers.
Data of the Vietnam Cement Association shows cement consumption across the country rose compared to the same period last year. In the first six months of the year, the country consumed 29.5 million tons of cement, with domestic consumption of 22.7 million tons, accounting for 100.9 percent year-on-year, and exports of 6.8 million tons, up 67 percent year-on-year.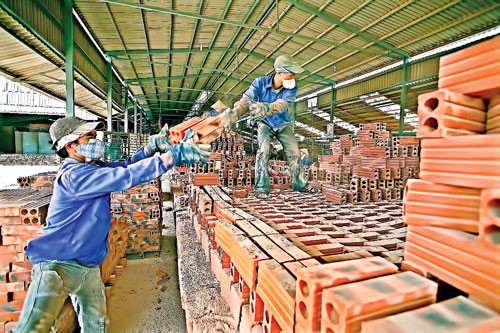 Building materials industry needs more support to overcome difficulties. (Photo: SGGP)
Other sectors also achieved positive results. Steel production rose 9.24 percent and consumption climbed 6.8 percent in the first half of this year as local producers promoted exports to countries in the ASEAN.
Statistics by the Ministry of Industry and Trade also showed that in the first seven months of this year, sales of roll steel touched 1.6 million tons, up 24.5 percent year-on-year; steel bars and equal angle steel were estimated at nearly 2 million tons, up 8.4 percent year-on-year. Ceramic tiles and sanitary porcelain exports surged 12 percent and 6 percent, respectively, year-on-year. However, local demand continued to slump.
According to Vietnam Association for Building Materials, total capacity of reverter-furnace cement production lines in the country was at 70 million tons annually. However, in the first half of this year, production of cement plants was merely 25 million tons, or 70.5 percent of total capacity. Some production lines, such as Thanh Liem, Ang Son 1, and X77, even halted operations. Meanwhile, cement consumption increased thanks to export which accounted for 23 percent of total cement consumption but the export price for clinker was at US$36-37 per ton and at $50-55 per ton for cement, much lower than selling price in domestic market.
Similarly, Vietnam Steel Association said that steel demand in 2013 was expected to rise by 2-3 percent compared to the previous year. However, supply soared when several new steel plants started operations, not to mention fierce competition from cheap Chinese steel.
Other sectors, including ceramic and porcelain, architectural glass, and unbaked materials, were also struggling. Data by the Vietnam Association for Building Materials showed that total tile capacity was at 435 million square meters, and sanitary porcelain at around 13 million items. However, in the first six months of this year, although tile production was barely at 70 percent of total capacity, its inventory level hit the production level in one and a half months. Architectural glass production merely touched 50 percent of total capacity whereas its inventory level was up to the production level in two or two and a half months. Concrete block production was at around 30-40 percent of total capacity, and below 20 percent of total capacity for autoclaved aerated concrete production line. Meanwhile, most cellular lightweight concrete production lines stopped production.
While firms still failed to resolve high inventory levels and earn profits from export, an increase of 5 percent in power price was a critical hit for steel and cement producers. With a 5 percent increase in power price, the cost of cement will climb by VND13,000-15,000 per ton.

According to Tran Thi Minh Anh, deputy CEO of Vicem, the power cost for cement production has risen upto VND200,000 per ton. Increasing power price will seriously affect cement industry as cement producers are not able to raise their price anymore. Therefore, their profits will drop significantly.
As for steel, on an average, a ton of steel requires about 600 kWh of power, hence, the cost price of steel will surge. Meanwhile, in July, steel producers had lowered price by VND200,000-250,000 per ton in order to stimulate demand. Like cement, it seems impossible for steel producers to increase selling price as consumption remains low.
The Vietnam Association for Building Materials continued to send proposals to Prime Minister Nguyen Tan Dung, and the Ministry of Construction asking for export promotion, for no building new cement plants, trade defense measures, and the enforcement of Resolution 2 to help building materials industry overcome difficulties.