During the Coconut Fair organised in the Mekong Delta province of Ben Tre in April coconut prices rose to VND45,000 per dozen (US$2.16), but soon after dramatically dropped, worrying farmers and local authorities.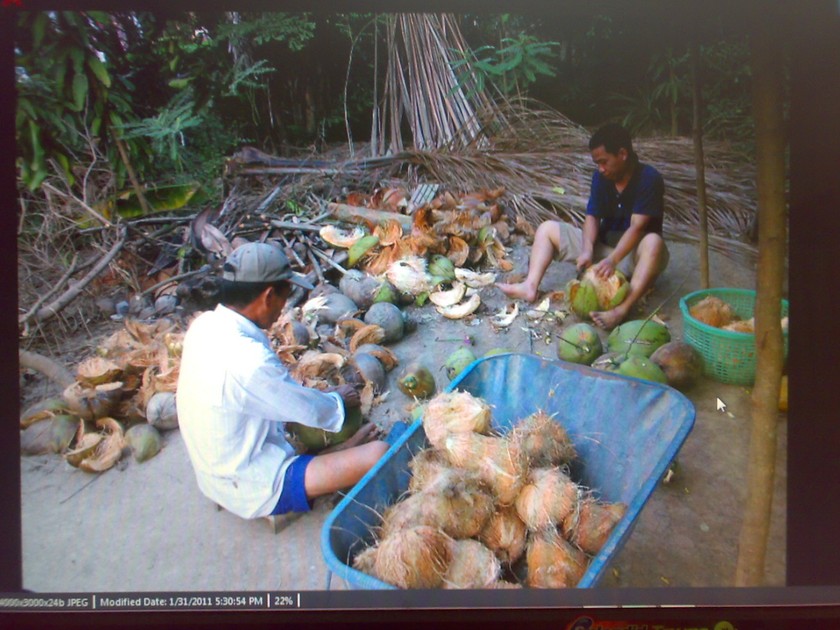 Coconut growers preparing dried coconuts to sell (Photo: T. Tam)
At the moment, dried coconuts are selling for only VND25,000 per dozen (approx $1.2).

Ho Vinh Sang, chairman of the Coconut Association in Ben Tre Province, said that apart from low prices, unfavourable market conditions and low demand has added to the farmers' woes.

With this in mind, the People's Committee of Ben Tre Province has suggested to the government and concerned agencies to name the coconut tree as a national industrial tree, so that proper policies can be prepared for its development.

According to chairman Sang, the government has been asked to financially support companies, create a budget for the price stabilisation programme and discontinue the 3 per cent tariff on raw coconut, which came into effect in May 2011.

Price of coconut peaked at VND150,000 per dozen ($7.19) in August 2011 and gradually decreased to the present price. As a result, many coconut farmers have ceased taking care of their trees and some have even destroyed them.