The Mekong Delta in Vietnam is the country's largest fruit growing area with a multitude of fruit varieties, yet at the moment as it begins to harvest its next crop, fruit prices are suddenly and sharply plummeting.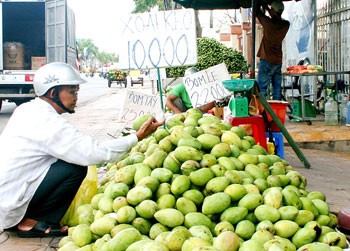 Cambodian mango is selling at a low rate in the Mekong Delta (Photo: SGGP)
This is just the beginning of the mangosteen, durian, mango and rambutan season, and prices have already begun to fall sharply.
Nguyen Thanh Tam, a mangosteen grower in Xuan Hoa Commune of Ke Sach District in Soc Trang Province, said that just one month ago a kilogram of mangosteen fetched VND100,000, which now has plunged to only VND30,000-40,000 a kg.
Along Highway 1A from Tien Giang to Bac Lieu Province, durian is being sold at VND25,000-35,000 a kilogram, a drop of VND15,000-25,000 over the last month.
Price of other kinds of fruits has also dropped to half or one third than one month ago.
The sudden drop in domestic fruit price is being blamed on the abundance of foreign fruits coming into markets in the Mekong Delta.
At present, thousands of tonnes of foreign fruits are being imported to Vietnam each day, including familiar fruits like Chinese apples, pears and mandarins and grapefruit from the US.
Thai fruits like mangosteen, durian, mango and tamarind are also flooding fruit markets in the Mekong Delta.
Foreign fruits attract many local consumers as their price is the same or even less than some domestic grown fruits.