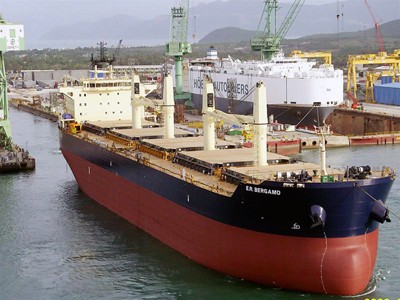 The 56,000 ton vessel ER. Bergamo is launched on March 31.

The Hyundai Vinashin Shipyard launched March 31 the biggest vessel built so far in Vietnam, the 56,000-ton ER. Bergamo.
The US$47 million vessel is one of 10 vessels the shipyard has signed contracts to build for German company E.R Schiffahrt GmbH & Cie KG.
The German firm will take delivery in July, three months earlier than contracted.
The shipyard, a joint venture between Korea's Hyundai Mipo Dockyard Co., Ltd., and Vinashin of Vietnam, hopes to build four of the 56,000-ton vessels this year.

It recently made the move from repairing to shipbuilding and this is its first vessel.
The company was a ship repairer for 10 years before investing more than $100 million to complete the makeover in 2008.
It plans to build eleven ships of 50,000 tons and above every year from 2010.