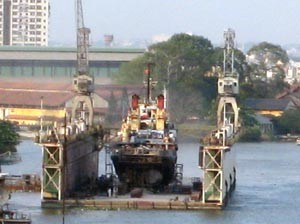 Ba Son Shipyard - one of a few shipbuilding yards in the South of Viet Nam. (Photo: T.C)
The Government Office issued an official document (No. 4805, August 31st) transmitting Deputy Prime Minister Nguyen Sinh Hung's view on permitting Vietnam National Shipping Lines (Vinalines) to invest in the construction of two maritime ship-repairing plants in both the North and the South.
Accordingly, the Deputy Prime Minister has in principle allowed Vinalines to build a detailed plan to construct a maritime ship-repairing plant in the South (financed by self-raised fund) under current regulations, in which Vinalines must take into consideration views from concerned ministries, industries and provinces.
The Ministry of Transportation is responsible for adding this project to the Adjusting Plan for Viet Nam's Shipping Industry Development to be submitted to the Prime Minister for consideration and approval.
Related Articles:
Getting Ready to Build VN's First 100,000-Ton Tanker
VOSA to Continue with Stock Offering
Korea Line Forms Joint Venture in Viet Nam