Several businesses involved in pilot plan to introduce Value Added Tax (VAT) refund to foreign visitors have been unable to sell their products while others have attracted a lot more customers, said Nguyen Duc Chi, an official from the Department of Culture, Sports and Tourism in Ho Chi Minh City.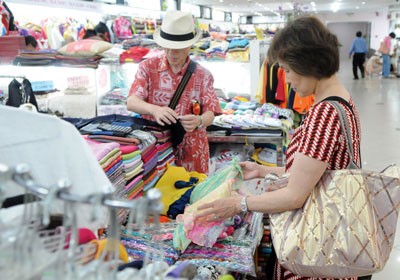 Japanese visitors at Saigon Tax Trade Center in HCMC (Photo: SGGP)
According to Chi, HCMC has several popular shops where foreigners drop in frequently while in Vietnam. These shops provide lacquer paintings, handicraft items and Ao dai dresses. However, they are not part of the VAT Refund Program.
Chi said that it is necessary to call on these businesses to participate in the VAT refund scheme.
The pilot plan for VAT refund was launched for a one year trial period in July 1 last year to encourage foreign visitors to make purchases in Vietnam.
However, most items listed in the program are imported fashion products like clothes, shoes, handbags, watches and jewelry, while domestic products were not mentioned at all.
In one year since implementation, the VAT Refund Program has attracted 47 businesses, with 190 shops in Hanoi, HCMC and Binh Duong Province.
Of these, HCMC has 32 businesses with 140 shops, Hanoi has 14 companies with 49 stores and Binh Duong has one enterprise with one shop.
Of the 14 enterprises in Hanoi, only two are regularly selling their products while the others have not seen visitors. The unit in Binh Duong Province has been unable to make out a single VAT invoice to foreign customers.
VAT refund has mainly been conducted by some companies in HCMC with delivery channels in large trade centers, selling high-class import products.
According to Vietnam Customs, more than 1,540 foreigners have received VAT reimbursement worth VND4.3 billion (US$205,000) from July to December last year.
In the first three months of this year, the number grew to 1,280 visitors receiving VAT repayment of VND3.8 billion ($181,000).
HCMC alone has 1,158 visitors getting VND3.36 billion ($160,000) of VAT back. The VAT Refund Program has been introduced at Noi Bai and Tan Son Nhat International Airports before being applied nationwide.
Foreign visitors receive 85 percent of the VAT bill value. The remaining 15 percent is used for paying services to banks.
Those wanting a refund must present a bill and fill a tax refund form valid for 30 days before date of exit. Goods purchased must have a total value of at least VND2 million (US$95) and purchased in the same shop on the same day.
Related article:
Foreigners to receive VAT refund from July