Pacific Place, Viet Nam's newest state-of-the-art business complex, opened in Ha Noi last week.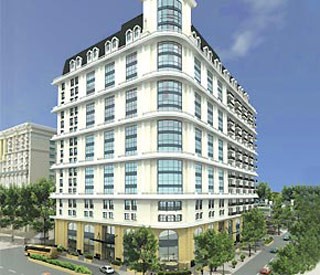 Pacific Place is the Viet Nam's newest state-of-the-art business complex
The 19-storey complex on Ly Thuong Kiet Street consists of 179 luxury apartments, 20,000 square meters of high-end office space, 2,000 square meters of prime retail space and a food court.
The complex also features a five storey underground parking facility, the first of its kind in Ha Noi.
The building was designed by the Archetype architectural firm and will feature such modern amenities as high-speed elevators and a fiber optic cable wiring system.

Real estate experts see the building as setting the standard for future development in the area and feel that it will go some distance toward satisfying the shortage of office and retail space in Ha Noi.

The complex's trade center is also expected to meet the rising demands of Vietnamese shoppers for international designer labels and high-technology merchandise.
The complex was developed by IMO, Asia's Global Real Estate experts, on behalf of a French investor.
With its unique location at the core of Ha Noi 's central business district, the complex is within easy reach of government ministries and international organizations as well as hotels, restaurants and other facilities.