According to the Vietnam Association of Seafood Exporters and Producers (VASEP), April shrimp export continued growing 7.6 percent over the same month last year to hit US$239.6 million.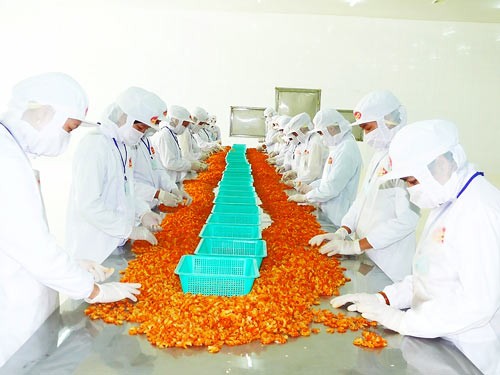 A shrimp processing plant in the Mekong Delta (Photo: SGGP)
The total value in the first four months this year went up 7.8 percent over the same period last year to hit US$858.8 million. The world's shrimp export prices have been on the rise because the monetary market has showed little volatility.
During the four months, domestic shrimp prices were higher than the same period last year. Demand from main markets increased because of stable supply and demand and inventory reduction.
Vietnamese businesses have enjoyed benefits from cutting anti-dumping duties under the preliminary results of the ninth antidumping duty administrative reviews (POR 9) by the US Department of Commerce.
Material supply sources from main export nations such as India, Thailand and Ecuador have dropped because of diseases and bad weather.
Vietnam's shrimp export is expected to reach US$780 million in the second quarter, up 10 percent over a year ago.