Exports of Vietnamese shrimp products are expected to experience a strong recovery in the first half of this year after a slowdown last year.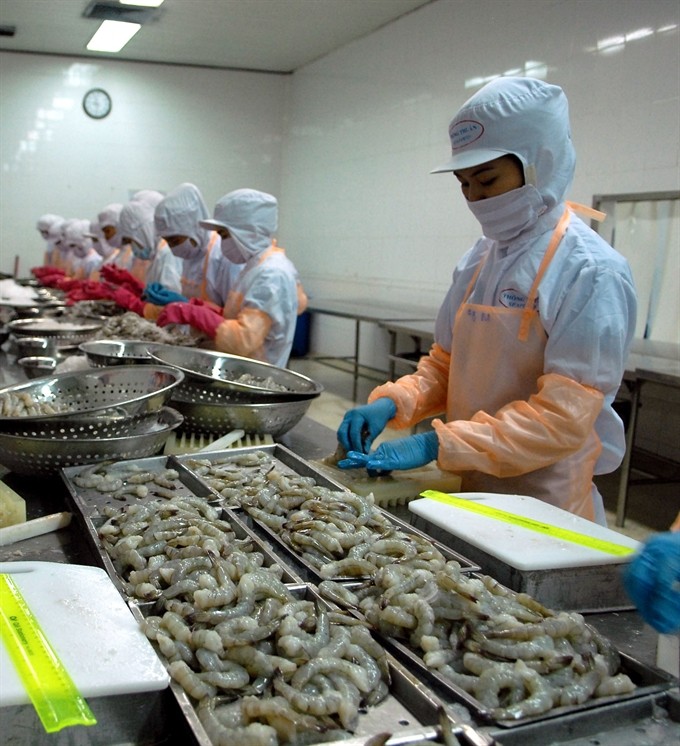 Shrimp being processed for export at Thông Thuận Company in southern Ninh Thuận Province. Shrimp exports were expected to recover this year. - VNA/VNS Photo Danh Lam
The export value of shrimp in the second quarter would increase by 10 per cent to US$788 million against the first quarter, the Việt Nam Association of Seafood Producers and Exporters (VASEP) said.
The total shrimp export value for this entire year was predicted to gain a year-on-year growth of 12 per cent to $3.3 billion.
In the second quarter, Việt Nam's shrimp exports to Russia and China would increase as they were considered the major markets, and the local exports to the United States (US) and European Union (EU) would also be higher because of lower inventory in those markets.
The association reported that in the first quarter Việt Nam witnessed a recovery in exports after a drop last year. The export value reached a year-on-year increase of 7.9 per cent to $619.2 million.
The growth was a result of higher exports to the world market, stability in the monetary market and higher demand from major markets, the association said. In addition, lower shrimp exports of other shrimp producers in the world such as India, Thailand and Ecuador, would be an advantage for Việt Nam's shrimp producers and exporters.
In the first quarter, Vietnamese shrimp products were exported to 64 markets. The top ten major markets included the US, the EU, Japan, and mainland China, in addition to South Korea, Canada, Australia, ASEAN, Taiwan and Switzerland, accounted for 94 per cent of the total national export value.
The exports to the US, were the highest at 30.6 per cent year-on-year in the first quarter, followed by China (up by 24.3 per cent), the EU (up by 2.9 per cent) and Japan (up by 0.7 per cent). Meanwhile, exports reduced by between 5.1 per cent and 30 per cent to South Korea, Canada, Australia, and ASEAN, apart from Taiwan and Switzerland.
Fisheries exports recover
Việt Nam earned $1.97 billion from fisheries exports in the first four months of the year, a 6.2 per cent increase year-on-year.
After a decline last year, the recovery in 2016 is a good sign for exporters.
According to the General Department of Customs, exports of two main items, shrimp and tra fish, were up 8 per cent and 2.4 per cent. But shipments of cuttlefish and octopus fell by 6.2 per cent and of tuna by 5.5 per cent. Exports of marine fish surged by 19.5 per cent and that of other marine creatures also saw an increase.
Tuna, cephalopods, crabs and marine fish accounted for more than 30 per cent of the total fisheries exports, and are forecast to increase significantly this year thanks to the steady supply and the rising demand in key markets.
Tuna and cephalopod exports are expected to be worth $507 million and $470 million, up 12 per cent and 10 per cent respectively, while exports of crab, surimi and marine fish are expected to top $1.3 billion, up 13 per cent, according to VASEP.