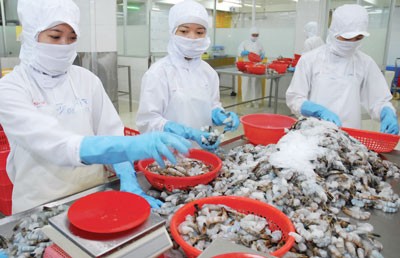 Shrimp exporters face challenges because of shortage of material for production and high skilled workers (Photo: SGGP)
Shrimp and pangasius are two key exports from the country which are currently facing many difficulties and challenges in meeting export targets.

Since 2012, export of these two items has not reached targets, resulting in low turnover of US$6.1 billion instead of $6.5 billion.
One of the main reasons for this shortfall has been shortage of material for production.
Nguyen Hai Trieu, director of Gio Moi Company, said before the company earned regular turnover but in recent years shrimp material for export has been short and diseases too have wretched crops.
These losses have been huge for enterprises. Shrimp breeding areas have shrunk to 570 hectares, only 2.4 percent against the same period last year.

Exporters also lack personnel with high skills that can meet the present fierce competition coming from the US, Japan and EU markets.