Fishermen in the central Vietnam are very elated as they earned much profit from breeding rotation of fish and shrimp in brackish water.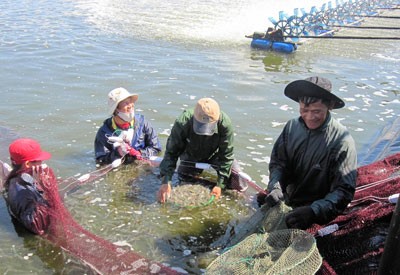 Breeders in Thua Thien - Hue harvest white-legged shrimps (Photo: SGGP)
Now it is the season of harvesting fish and shrimp raised in thousands of hectare ponds. The Department of Agriculture and Rural Development in Thua Thien-Hue Province said that local farmers have a bumper harvest of shrimp, crabs and fish in 635 hectares of brackish water ponds.

Traders offered a price of VND170,000 -180,000 (US$8 - 8.47) a kilogram of shrimp  and VND 150,000-180,000 a kilogram of eel fish for on-site purchases, bringing net profits of VND15 million - 20 million  (US$705.9 - 941) per hectare of breeding pond to farmers; some households even can earn over VND40 million (US$1,882) from each hectare of fish and shrimp.

Le Binh, deputy head of the Department of Agriculture and Rural Development in the central province of Quang Tri said that farmers breed white-legged shrimps more than tiger prawns as the former rarely get sick.

Currently, white-legged shrimp is now sold at VND100,000 per kilogram of 100 units and VND150,000 per kilogram of 50 pieces. It is helping breeders earn ever more profit than before.