Various Singapore franchisors in the food, beverage, lifestyle and education sectors are this month sounding out business opportunities in Vietnam, where the consumer market is expanding and the population has reached 86 million people.
The "Top Franchise Asia 2011 – Vietnam Edition" matching platform was held Thursday in Ho Chi Minh City as a conference towards this end.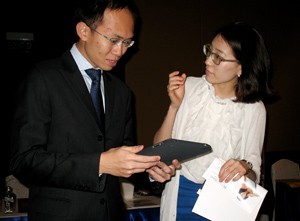 Meeting for business during Thursday's franchise matching platform in Ho Chi Minh City (Photo: Tuong Thuy)
Participating franchisors included Kooshi and Animaland in lifestyle; F&B brands such as Empire State, Creative Eateries, Don's Pie; FMDS, Q-dees, Soul Kids, and Kinder Golf in education; Auto Saver for the retail section.
The event was a joint effort between the VietCham Expo Company and Singapore's Astreem Corporation, supported by the Vietnam Chamber of Commerce and Industry and the Franchising and Licensing Association of Singapore, better known as FLA Singapore.
Astreem is a consulting company and a strategic partner with the association.
Astreem founder Hsien Naidu said many Singapore companies were now interested in Vietnam as a market for franchise expansion. "The rapid economic development and dynamic consumers are the main reasons for Singapore firms to seek franchise deals in the country."
"We hope that via this platform, many aspiring entrepreneurs will find their suitable franchise business opportunities," she added.
Vietnam has recently been ranked 8th in the Asia Pacific region in terms of food and beverage business environment by Business Monitor International, Astreem reports.
The Singapore firm says it hopes the matching platform will facilitate the interest and participation of Vietnam's brands in the upcoming FLAsia 2011 showcase, which will be held in Singapore near the end of this year.
Market analysts say more Vietnamese businesses are accepting franchises as an appropriate way of securing their investments when trying to establish a niche in the local market and indirectly penetrating foreign markets in a quicker and easier fashion, if they are not financially strong enough to launch overseas promotions themselves.
Vietnam currently sees dozens of franchise brands such as KFC, CBRE, Dilmah, Lotteria, Pizza hut, Gloria Jean's Coffee, Coffee Bean, Germany's Metro, Malaysia's Parkson, and Vietnamese brands like Trung Nguyen Coffee, Pho 24, Kinh Do Bakery, and AQ Silk.