Various Singapore franchisors currently want to enter Vietnam and will take part in a franchise workshop in Ho Chi Minh City on April 9 to look for business partners, Singapore experts said here Thursday.

Food and beverage franchisors from Singapore like Pasta Mania, 3-Monkeys Cafe, and Worldwide Wings will join the event, co-organized by Singapore's Astreem Corporation and VietCham Expo, Astreem founder and director Hsien Naidu told a press briefing in Ho Chi Minh City.

She said lifestyle franchisors like Kooshi, Animaland, Be Me Shoes, and QQT Massage will take part in the Franchise Vietnam 2010. She added Singapore educational organizations will also come.

Dr. T Chandroo, vice chairman of Franchising & Licensing Association (FLA) Singapore and chief executive of his educational organization Modern Montessori International, said he will be attending.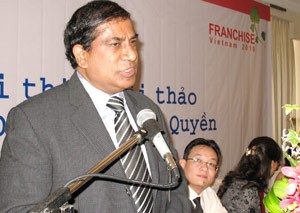 Dr. T Chandroo, vice chairman of Franchising & Licensing Association Singapore, speaks at Thursday's press briefing in Ho Chi Minh City (Photo: Tuong Thuy)
The organizers said the workshop will be separated into two sessions. The morning session will provide business owners knowledge on the know-how of franchising and opportunities to expand their business locally or across borders.

Individuals interested in setting up their own business can learn about Franchise Investment at the morning seminar and explore established brands from Singapore that are ready to enter the Vietnam market at the Master Franchise Showcase in the afternoon, according to the organizers.

Dr Chandroo said, "Being one of the founding members of the World Franchise Council, FLA Singapore together with our sister associations and strategic partner like International Enterprise Singapore and SPRING Singapore, we promote the use of franchising, licensing and branding as a growth strategy to help Singapore based companies expand their operations."

He said, "Vietnam currently has a population of 86 million people, with 65 percent younger than 35 years old, a segment that is highly receptive to modern offerings."
"I earnestly believe that the seminar will be of great value added to the development of Vietnam local franchising, at the same time fostering even stronger ties between Singapore and Vietnam businesses through franchising activities."

Astreem founder Naidu said the Singapore brand Manhattan Fish Market has found a franchise partner in Vietnam and plans to open its first outlets in Hanoi by June.

"In the next two years, we will focus on education and lifestyle," she said,

Astreem is a consulting company and a strategic partner with FLA Singapore.

VietCham Expo is an exhibition service company under the Vietnam Chamber of Commerce and Industry.