Singaporean Ambassador to Vietnam Simon Wong has emphasised the increasing confidence of his country's investors in trade and investment cooperation potential between the two countries.
Addressing a meeting of more than 300 Vietnamese and Singaporean busineses held in Hanoi on March 18, the Singaporean diplomat cited the outstanding successes in the two countries' economic cooperation such as the Vietnam-Singapore industrial parks, the PSA deep water port, and many large real estate projects around Vietnam.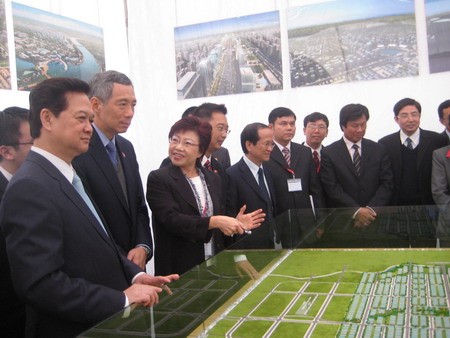 (File photo) Vietnamese Prime Minister Nguyen Tan Dung (1st, L) and his Singapore counterpart Lee Hsien Loong (2nd, L) at the ground-breaking ceremony of the Vietnam-Singapore Industrial Park in the northern city of Haiphong in Oct. 2010
Deputy Prime Minister Hoang Trung Hai has affirmed that Singapore's investment capital, which almost doubled in 2010, reflected the confidence and effective cooperation potential of Singaporean investors and businesses in Vietnam.
Singapore has become the country with the largest investment capital in Vietnam, with 900 projects totalling almost 23 billion USD, said the Deputy PM, adding that in the first two months of 2011 alone, Singapore had registered an additional 1.1 billion USD in various fields.
At the meeting, the two countries' businesses explored steps to implement the Singapore-Vietnam Connectivity Framework Agreement in the fields of finance, information technology, investment, service and trade, transport, and education and training.