The Nhon Hoi Economic Zone management board has granted license to six projects, worth around VND10.835trillion (US$542 million) in the Nhon Hoi EZ in Binh Dinh Province.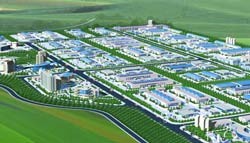 Graphic view of the Nhon Hoi Economic Zone.
Some of these projects are large-scale ones. The Vinh Hoi resort project for example, will cover an area of 300 hectares with a total capital of $250 million. The Hai Giang tourist project will have US$150 million investment by Hai Giang JSC and the Nhon Ly- Cat Tien Beach Resort project is worth a total US$90 million.
Another project at the Linh Phong pagoda will cover an area of 56.6 hectares with a capital investment of $25 billion. Also coming up are the Trung Luong project by the My Tai Co. Ltd and another tourist project by the Quoc Thang Co. Ltd.
All the tourist projects will meet with international standards.