Nguyen Thanh Long, general director of the Saigon Jewelry Company (SJC), stated on March 17 that his company was ready to cease all retail trade of gold bars as soon as relevant agencies required him to.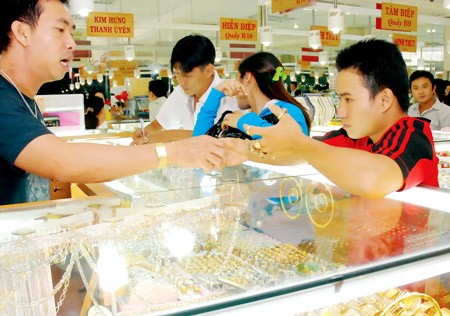 Customers buy gold at a gold shop in Ho Chi Minh City (Photo: SGGP)
He said that SJC will promptly switch to production, manufacturing and trading of gold jewelry.

The halt in trading of gold bars is part of SJC's move to curb inflation, stabilize the macro-economy and ensure social welfare in line with Government policies.
Mr. Long believed that it was the right decision and people must not hastily switch from trading gold bars to gold jewelry.
He said that a complete halt in the trading of gold bars in the unofficial market should be done in reasonable stages, adding that the State Bank of Vietnam should serve as the central gold importer and it should also establish a State gold fund.
Some companies should set up a gold trading floor in big cities like Hanoi and Ho Chi Minh City, he added.
SJC is the leading company in Vietnam for trading gold bars with its hold of 90 percent of the country's market share.
The company's sales reached about VND100,000 billion (US$4.76 billion) in 2010, 85 percent of which came from gold bar transactions.
In an effort to strictly implement the Government's Resolution 11 on stabilizing the foreign currency market and interest rates and preventing illegal gold and foreign currency transactions, the volume of gold bars traded at the company decreased by 30-40 percent.
Mr. Long hoped that customers would continue to have confidence in SJC when it switched completely to trading in gold jewelry.