A labor force paradox has emerged following the long Tet holidays – increasing number of skilled workers are unemployed while enterprises say they are suffering from a worker shortage to meet orders.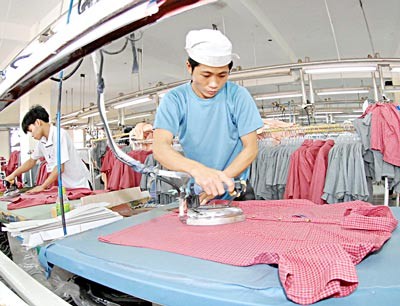 Untrained workers know just one step in the manufacturing process. Vietnam must impress upon enterprises the need to apply newer technologies and use more skilled workers, experts say ( Photo: SGGP)
A study conducted by reporters of Sai Gon Giai Phong newspaper of fifty enterprises in the Tan Tao, Vinh Loc and Tan Binh Industrial Parks (IPs) as well as the Linh Trung 1, 2 and Tan Thuan export processing zones found most employees had returned to work after Tet.
Around 15 per cent of the employees were late because they couldn't buy train tickets.
Ho Xuan Lam, deputy head of the Ho Chi Minh City Industrial Park and Export Processing Zone Authority (Hepza), said some businesses have implemented proper policies to attract laborers, like paying attention to workers' salaries, awarding them Tet bonuses, and giving additional bonuses to employers who are able to bring other workers to work for the firms.
He said such policies have proved effective in retaining workers who would otherwise jump easily to work in other factories.
He said the current shortage of laborers in some factories was because the economy recovery has produced more orders and they needed more workers. Hepza requires 10,000 new employees including 6,000 for the Freetrend Company and 2,000 for Nissei Electric. Lam said the city is estimated to need about 50,000 employees in 2010.
Despite the shortage of laborers in first days of the Lunar New Year, 25,000 skilled workers remained unemployed. Enterprises were only choosing unskilled employees so they could pay salaries of around VND1.500.000 a month rather than trained graduates from vocational facilities with average monthly salaries of VND2.500.000, Lam said.
He said most garments and shoes factories want to select unskilled laborers to pay less; however, such workers would self-train over time and raise their skills to earn more money.
To address the shortage in labor force, enterprises need to use advanced technology and use skilled labor instead of looking for unskilled workers to cut costs, he suggested.
Only when enterprises apply new technological advances would workers pick up new skills and more work get done instead of having unskilled laborers finish just one step in the manufacturing process.