After a further fall in petrol price for the second time in ten days, it is only the Mai Linh Taxi Company that has reduced fares by VND200-500 per kilometer from July 2 so far, while other companies are still deliberating.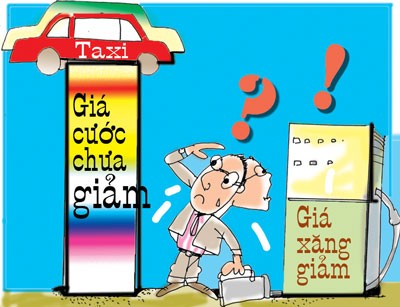 Slogan on left: 'Fares not reduced'; slogan on right: 'Petrol price falls' (Photo: SGGP)
As per calculations, after the last two reductions since June 21 of VND1,300 a liter, taxi companies should decrease fares by a minimum VND300 a kilometer.
Representatives of some taxi companies spoke with Saigon Giai Phong on July 4, saying they were still considering a reduction in fares.
Nguyen Quoc Chien, head of the Price Board under the Department of Finance in Ho Chi Minh City, said the department is preparing a document to send to businesses and transport associations, asking them to reduce fares.
After July 31, the above department will coordinate with the Departments of Transport and Taxation in the City to inspect businesses; and any business found not slashing on fares will be penalized as per Government regulations.
Ta Long Hy, chairman of the HCMC Taxi Association and director of Vinasun Taxi Company, said that the volatile nature of petrol pricing  makes it costly for businesses to adjust fares so frequently as meters in taxis have to be reprogrammed every time.
Besides, world petrol price is again on an upward trend and the Ministry of Finance has hiked import tariff on petrol to 12 percent, which might again lead to an increase in domestic petrol price.
As a result, taxi companies are still deliberating over the issue of fare reduction. If petrol price does not go up in the next few days, they will decrease fares, Mr. Hy added.
Related articles:
Gasoline price reduced further
Taxi fares, haulage rates to go down in July