Small hydropower enterprises on Thursday accused Vietnam Electricity (EVN) of buying electricity from them at low rates and selling at a higher retail price.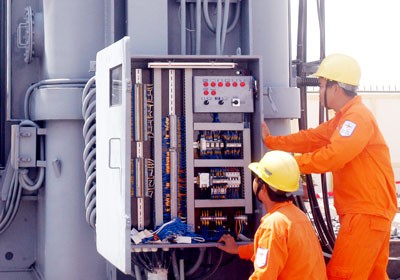 EVN buys electricity from small investors at low rates but sells at a high retail price (Photo: SGGP)
The hydropower enterprises were speaking at a forum on the development of small hydropower plants hosted by the Vietnam Chamber of Commerce and Industry and Vietnam Energy Association.
Rainfall in Vietnam is an average 1,800-2,000mm a year, which allows the country to develop hydroelectricity. There are about 800 small and medium hydropower plants in the country that generate 15-20 billion kW of electricity per year.
At the forum, the small hydropower enterprises said that EVN has bought electricity from them at lower rates but is selling to consumers at much higher prices.
According to Hung Hai Group, a hydropower investor, EVN pays them an average of VND650 a kW since 2006 and the price is still unchanged.
Meanwhile EVN increased its retail price to VND870.80 a kW in 2008 and continued to hike it by 57 percent to retail at VND1,369 in 2012.
EVN even paid them a low VND550 a kW in the rainy season this year.  The plant output during rainy season accounts for upto 65-70 percent of its annual total output.
Besides low power prices, small hydropower businesses are also facing high interest rates of 20-22 percent a year, causing a huge dent in revenue.
Irrational collection of water resource tax is another problem. According to Vu Ngoc Cu, deputy chairman of the Lao Cai Province Business Association, at present, the tax is being collected on electricity price.
Businesses in the province seem to be paid VND1,340 a kW, but in fact only receive VND866 a kW with the balance going towards water resource tax.
Sharing the same opinion, a representative of the Hung Hai Group said that none of the small businesses can sell their electricity to EVN at VND1,340 a kW.
Tran Viet Ngai, chairman of the Vietnam Energy Association said that Vietnam has a competitive power generating market; however there is no real competition as EVN holds monopoly.
Mr. Ngai proposed that businesses should be entitled to compete in the market independently to break monopoly.
A competitive power generating market was launched on July 1, in which electricity plants will offer their prices to the Electric Power Trading Company, a unit of the State-owned Vietnam Electricity.