The Government's Small- and Medium-Sized Enterprise Development Foundation (SMEDF) could provide support to startups in the form of venture capital and crowd funding, according to a draft decision.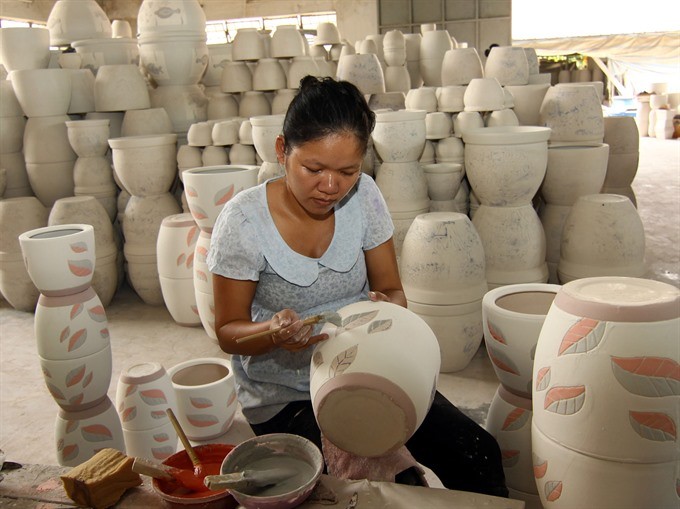 A woman decorates ceramic products at Vạn Phúc Ceramics Export Company, a small private enterprise in southern Bình Dương Province's Tân Uyên District. A draft document about the operation of the Government's Small and Medium – Sized Enterprise Development Foundation is being opened for public comments. – VNA/VNS Photo Vũ Sinh
The draft on the Prime Minister's decision on the organisation and operation of SMEDF was being posted for public comment on the Ministry of Planning and Investment's website early this week.

SMEDF, a public financial institution, which officially began operations on April 22 this year, aims to provide support to small- and medium-sized enterprises (SMEs) nationwide.

According to the draft, SMEDF could provide support to SMEs in a number of ways, including direct lending, credit guarantee, venture capital (VC), crowd funding and support in enhancing SMEs' capacity.

The ministry said the diversification in SMEDF's support measures would help improve the efficiency of financial support being provided to SMEs, especially to startups which were in a disadvantageous position for accessing loans due to the shortage of mortgaged assets.

The ministry said venture capital and crowd funding would enable startups to access capital.
Regarding venture capital, SMEDF would provide counterpart funds to startups, which received investment from angel investors, in exchange for stake in the SMEs.

The participation of both the Government and the private sector in venture capital was expected to promote the startup spirit and fuel the sector's development, the ministry said.

In addition, SMEDF could contribute capital to a VC fund that had already raised a minimum of VNĐ10 billion (US$447,000) from private investors and had its portfolio approved by the foundation.

Venture capital from SMEDF would be capped at below 25 per cent of the foundation's charter capital.
SMEDF, under the draft, would also provide an online platform of crowd funding to SMEs, aimed at improving access to capital for startups and to call for idle capital from the private sector.

According to entrepreneur.com, crowd funding is the process of raising money to fund what is typically a project or business venture through many donors using an online platform.

The current charter capital of SMEDF was VNĐ2 trillion, which was still short compared with the demand of financial support of more than 500,000 SMEs nationwide, the ministry said, adding that the draft would allow the fund to raise capital in a number of ways, including capital raised from financial and credit institutions and the private sector, in addition to State funding.

SMEDF was founded following the Prime Minister's Decision No 601/QĐ-TTg issued in April 2013.
To date, SMEDF has signed framework agreements with trustee banks, including BIDV, Vietcombank and HDBank, and issued a financial support programme for 2016.

The ministry said SMEDF's operation has received the attention of SMEs since its officially began operations in April, including a policy of fixed lending interest rate at 7 per cent.