The Ho Chi Minh City Economics and Budget Committee hosted a seminar on contributions of economic sectors to economic growth on Friday, when many experts said small and medium enterprises (SMEs) need more assistance to develop and integrate into the region and world's economy.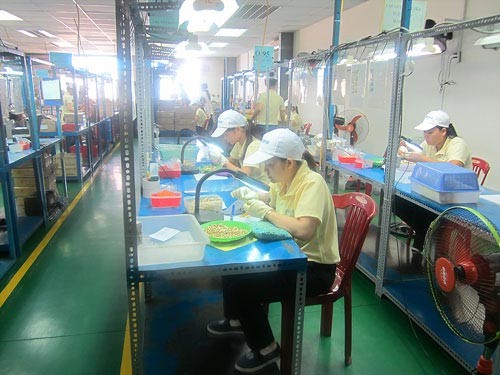 (Illustrative photo: SGGP)
Associate professor Nguyen Tat Phat from the HCMC National University said that private sector has significantly contributed to gross domestic product growth. However most enterprises are of small and medium scales and face many difficulties in global integration.
 
Some said that Vietnam should esteem gradual and steady development of SMEs instead of concentrating on foreign direct investment or state own enterprises to create breakthroughs.
 
Mr. Huynh Van Minh, chairman of the HCMC Business Association, said that SMEs have met with many difficulties because of weak ability and short capital. Loan interest rate in Vietnam is too high compared to other ASEAN nations and labor quality is low.
 
Associate professor Ha Thi Thieu Dao from the Banking University of HCMC reported that so far the SMEs Credit Guarantee Fund has answered for 24 companies while the city has up to 150,000.
 
Reasons for this condition according to surveys by credit institutions are that up to 30 percent SMEs have been unaware of this fund, and 36 percent have not invested in the fund because of little profitable level.
 
Another survey at nearly 500 enterprises shows that 42 percent know about the fund but only 4.2 percent has contacted it and 24 have been guaranteed so far.
 
Despite capital shortage, a large number of SMEs have been unqualified to get guarantee. Many have come to the fund after being declined by banks.
 
Associate professor Nguyen Thi Canh from the Economics and Law University said that besides solving difficulties, authorized agencies should also help SMEs improve investment effectiveness.
 
Deputy chairman of the Rubber and Plastic Association Tran Viet Anh proposed the city to do statistics on the number of production businesses because many located in residential areas have not been counted in current data.
 
Most of them use technologies of 20 years back and rural laborers. So the city should focus on assisting them to reform technologies, remove into industrial parks and train workers to better contribute to the city's development.
 
Many Thai firms have negotiated to purchase 100 percent stakes of plastic firms in Vietnam at high prices. A number of local firms afraid that they would not be able to compete with foreign giants after more free trade agreements take effect, so they have accepted selling. Recently, four large enterprises have sold most shares to Thai firms, he added.
 
Mr. Viet Anh affirmed that assistance to SMEs at this time is the survival of the economy.