In the first ten months of the year Vietnam attracted about US$60 billion, but the last few months have shown a downward trend as the global crisis deepens. In effort to attract foreign investments in such a difficult situation, the government will prioritize small and medium investment projects.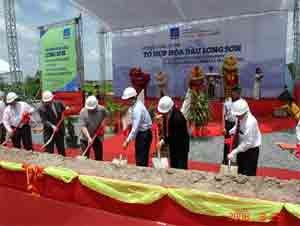 The groundbreaking ceremony of Long Son Petrol Chemistry Plant in Vung Tau recentl (Photo: Tuoi Tre Online)

The Foreign Investment Department of the Ministry of Planning and Investment has revealed a gradual monthly decrease in the number of investment projects as well as the amount of total registered capital since this June.

In October, only 68 foreign investment projects were granted investment licenses, a decrease of 30 compared with the same period of the previous year.

From June to September, only US$ 1 billion was disbursed for foreign investment projects each month. During the same period, around 200 projects in operation applied to raise their production capital every month, averaging between US$700 and 900 million.

The slow rate of disbursement is said to be responsible for financial difficulties that banks are now facing in an inflationary economy.

In October, the number of existing projects applying to raise their capital to expand their production activities reduced to 22, with the capital thus raised a meagre $169 million.

The deputy director of a provincial department of planning and investment pointed out that the increase in production capital of projects in operation is a very important indicator of the efficiency of investment projects, and a barometer of how attractive the country's investment environment is.

What worries experts most is that there have now been 11 large-scale licensed investment projects with a total registered capital over US$45 billion, accounting for 70 percent of the total registered capital. Implementing these over one or two years in such a difficult economic situation is going to be a stretch.

Positive signs

Despite the current downturn, there are reasons to hope the foreign direct investment trend can turn around.

According to the United Nations Conference on Trade and Development's 2008 annual report, the world's foreign direct investment this year is expected to reach US$1,600 billion, a year-on-year decrease of 10 percent. The report, however, predicts that foreign direct investment will continue to flow into Southeast Asian countries despite the global downward trend.

Surveys on the impact of the global financial crisis on foreign direct investment flows in the period 2008-2010 show that 50 percent of investors said it has not impacted them, while 30 percent said their companies have been badly affected.

To cope with the ongoing downward trend of foreign direct investment, Pham Huu Thang, director of the Foreign Investment Department, asserted that top priority will be given to disbursement for licensed projects. He pointed out that a number of investors are still commiting funds for their projects despite the financial crisis.

Thanh said licensing will be prioritized for small and medium- scale projects that can be finished and put into operation between one and three years. On the other hand, caution will be exercised for large-scale and real estate projects.
11 registered projects with investment capital over US$ 45 billion

1/ US$ 9.79 billion Malaysian steel, electricity and seaport complex in Ninh Thuan Province
2/ US$ 7.9 billion Taiwanese project to build ports and a metallurgy plant in Vung Anh IP in Ha Tinh Province
3/ US$ 6.2 billion Japanese and Dutch project to build Nghi Son Oil Refinery Plant in Thanh Hoa Province
4/ US$ 4.3 billion Brunei's project to build upscale tourist complex in Phu Yen Province
5/ US$ 4.23 billion Canadian project to build Ho Tram resort in Vung Tau City of Ba Ria Province
6/ US$ 4 billion Thailand's Long Son Petrol Chemistry Plant in Vung Tau City of Ba Ria Province
7/ US$3.5 billion Malaysian urban zone and international university in HCM City
8/ US$ 1.65 billion Bouvet Island's resort and golf course in Phu Quoc City of Kien Giang Province
9/ US$ 1.3 billion amusement center and hotel in Vung Tau City of Ba Ria Province with US investment
10/ US$ 1.2 billion Singaporean project to build hotel, apartment buildings and to product computer chips and software in HCM City
11/ US$ 930 million Malaysian project to build a financial center in HCM City