The boss of Ho Chi Minh City-based Sports Management Services Company has said his company is sure that if Vietnam legalizes betting, management of this gaming can go smoothly since SMS has done this efficiently for almost 10 years.

SMS, a member of the Vabis Group of companies where Vietnamese Australian Nguyen Ngoc My is chairman, provides administrative processing services for online sports gaming worldwide including football, basketball, tennis, rugby, American football, baseball, golf, badminton and hockey.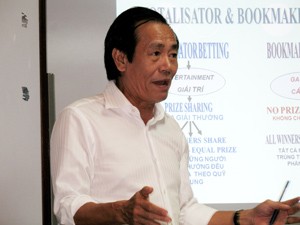 Sports Management Services Co. boss Nguyen Ngoc My gestures while addressing a meeting with reporters at the company's headquarters in HCM City on Nov. 5, 2010. (Photo: Tuong Thuy)
"SMS is one of the world's three biggest companies in supplying administrative processing services for online sports betting," he said at a meeting with reporters in the city Nov. 5.
"We strongly support the Vietnamese government's decision to legalize betting.
"We acclaim the government's draft decree looking to regulate betting on horse racing, greyhound dog racing and international football games.
"I strongly believe that if Vietnam's regulatory work is appropriate, overseas people will use betting services provided by Vietnam."
SMS started operations in May 2002. At present, more than 100 foreigners are holding managerial positions at the SMS headquarters, located in Quang Trung Software City in HCM City's District 12. About 400 Vietnamese staff work there.
The Vietnamese Ministry of Finance has decided to legalize betting on football in order to tax bets and also crack down on the huge amount of illegal betting in the country.
The draft decree on this says the smallest bet size will be VND10,000 (US$0.5) and the largest bet allowed per day is one million dong (US$50).
The Ministry of Finance announced the draft decree late October to collect feedback. The draft is expected to be at Prime Minister Nguyen Tan Dung's table for approval next month.
The document says betting is allowed on both local and international horse and greyhound racing, but in the trial stage, this gaming is allowed only on international football games, not yet on local matches.