With various designs and cheap prices on offer, Chinese goods in recent years have dominated markets in Laos, Cambodia and Myanmar, as well as Vietnam.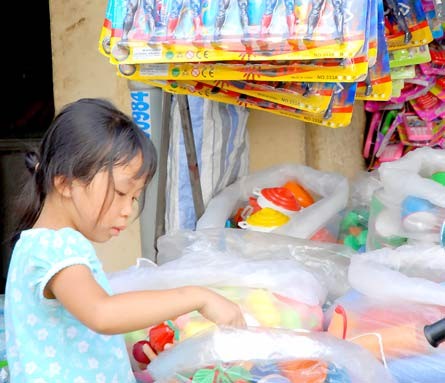 Chinese toys are sold at a shop in HCMC (Photo: SGGP)
Dong Xuan Market in Hanoi sells the most number of Chinese goods, such as clothes, footwear, handbags, schoolbags and food.
There are many kinds of clothes for adults and children with hundreds of designs and prices ranging from as little as VND20,000 to 200,000 per item.
Although consumers have recently been concerned about some Chinese clothes containing noxious chemicals, sales have quickly recovered.
With the new school year approaching, parents have been buying large amounts of Chinese made children's clothes and 'Superman' school bags.
Hai Anh, a clothes stall owner in the market, said Chinese goods are best sellers because it is choice of the those on low-incomes.
Travelling through streets, specializing in trading clothes, like Hang Ngang, Hang Dao, Hang Can, Chua Boc and Tran Nhan Tong, it is easy to find that Chinese goods hold the upper hand over domestic goods.
Clothes at the shops are divided into two kinds: high class and low class.
For high class clothes, a woman's T-shirt from Guangzhou costs VND600,000.
Thanh Tung, a shop owner in Tran Nhan Tong Street, said that high class Chinese goods are taken from Hong Kong, Guangzhou and Shanghai.
Another shop owner revealed that he pays just one third or a quarter of the price to buy these Chinese made clothes.
At many shops in streets like Ngo Quyen and Chua Boc, some Chinese goods have their "Made in China" labels taken off and replaced with "Made in Vietnam."
Some sellers said that recently consumers do not want to buy Chinese goods, owing to the recent chemical scandal, which is why they replace the labels.
Huynh Quoc Bao, representative of the Binh Tay Market management board in Ho Chi Minh City, said that it is very hard to know how many Chinese clothes and footwear are sold in the market.
He guessed that Chinese clothes make up 35 percent of those sold at Binh Tay, and are ten to 15 percent cheaper than domestic items.
Electronic goods and toys
Chinese household goods and toys are also big sellers.
At PICO, one of the largest electronic supermarkets in Hanoi, Chinese made liquidizers, microwave ovens and gas cookers are sold at 50 percent less than those of other countries.
In Luong Van Can Street, Hanoi, most toys are Chinese made. At bookstores and supermarkets, domestic toys account for just five percent of products.
In HCMC, 90 percent of toys sold at markets like Binh Tay in District 5 and Kim Bien in District 6 are from China. Most Chinese toys here cost VND9,000 to 24,000 per toy.
Chinese office stationery and jewelry also sell in large volumes and cheap prices.
Related article:
Vietnam flooded with smuggled Chinese goods