As most of the supply of sturgeon fish to Vietnam is illegally brought in from China, the Ministry of Agriculture and Rural Development is concerned that related agencies lax behavior in controlling import of the fish could spread disease in domestically bred fish.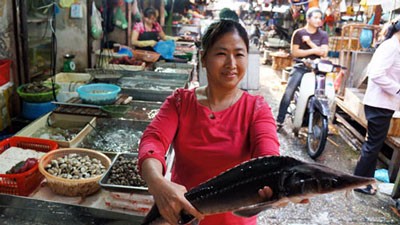 A trader at Thanh Cong Market in Hanoi displays a Chinese sturgeon fish
Customers can easily buy the fish from supermarkets and restaurants in Hanoi and Ho Chi Minh City and some provinces in the country. The fish can be even bought from sea food markets in Hanoi like Thanh Cong, Nghia Tan and The Giao.
Owners of shops and supermarkets claim the fish is transported from Sa Pa District in Lao Cai Province and Tam Dao in Vinh Phuc Province in the North or Lam Dong Province in the Highlands.
 
Price of the fish ranges from VND160,000-VND180,000 (US$7.6-$8.6) a kilogram in markets, while in Hanoi it is VND500,000-VND700,000 ($24-$33.4).
Restaurant owners explained the price difference, saying that they use only local bred fish while fish sold in markets is imported from China.
 

Vietnam has banned the import of fish yet smuggled fish still floods markets and supermarkets, which is destroying the local breeding sector. Mr. Cao Duc Phat, Minister of Agriculture and Rural Development, has sent an urgent request to related agencies and people's committees in border provinces to tighten control of fish smuggling.
 
Nguyen Van Khai, director of a fish breeding company, is very angry. He says he set up the company in 2005 but it has not developed further due to fierce competition from smuggled fish.
Tran Yen, director of another company, also complained that local companies cannot compete with cheap smuggled Chinese fish.