Smuggling is flourishing at border gates in the northern provinces of Lang Son and Quang Ninh ahead of Tet Lunar New Year.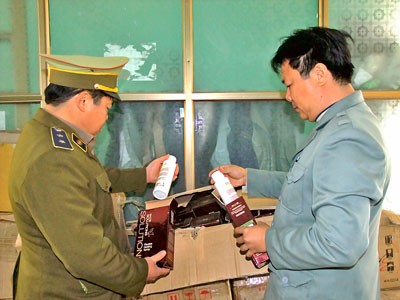 Officials seize contraband cosmetics from China in the northern province of Lang Son (Photo: SGGP)
Recently, late one afternoon, roadside tea shops in Dong Dang Town in Cao Loc District of Lang Son Province were crowded with motorbike taxi drivers and porters, who all were waiting to transport smuggled goods.
Suddenly, the quiet sleepy town was woken with the loud sound of at least ten motorbikes and three seven-seater cars carrying several bags of smuggled goods towards Lang Son City.
Within a period of half an hour, Saigon Giai Phong witnessed four to five groups of motorbikes transporting goods across the crossroads of Highway 4B and Highway 1A in Dong Dang Town. At the same time, several porters were rushing to transport the illicit commodities to pavement sellers near Coc Nam border gate.
Nguyen Xuan Thu, a tea shop owner near Dong Dang Market, said that mid noon or late afternoon was time for smugglers to operate, so as to avoid police and military forces.
Major Vu Quoc An from Tan Thanh border army post in Lang Son Province, said that they are in charge of patrolling along 14km of the border which includes two large border gates Tan Thanh and Coc Nam. However they meet with a lot of difficulties due to tough terrain. Smugglers usually carry goods across various paths near Highways 1A and 4B into Vietnam.
The Tan Thanh border army post arrested six smuggling groups with nearly 500 packages of commodities that included clothes, toys, household appliances and shoes in the first week of December.
Since mid December, customs officials in Lang Son Province uncovered more than 570 cases in which contraband goods worth 15 billion (US$720,000) were being brought into the country.
Thang, a trader at Tan Thanh Market, said that they have all commodities from everyday items to banned items, like weapons and firecrackers, which are produced in China. Products are of different quality and price, for instance, the price of a Nike counterfeit jacket swings from VND200,000-1,000,000 depending on if it is genuine or fake. 
Thang said that if traders from Hanoi buy illicit goods from China in the long term, they just need to make a phone order and transfer money into an account of the seller to get home delivery.
Smuggling even thrives in Mong Cai City in Quang Ninh Province.
Nguyen Tran Hoe, deputy head of the Bac Son border army post in Mong Cai City, said that they manage 26.3km of the border. However their anti-smuggling efforts are a strain because smugglers transport goods not only by road but also waterways, at night.
Pham Van Tinh, head of the Control Station at Dan Tien Wharf, said that since early December the station has caught 171 smuggling cases, an increase of 24 percent over the same period last year.
The smugglers usually divide goods into several small packages and hire motorbike taxi drivers to transport them.
Vu Duc Dung, from the Customs Department in Quang Ninh Province, said that they have nabbed 693 cases of transporting of contraband goods worth VND27 billion ($1.3 million) in December--an increase of 32 percent in number and eight percent in value over the same period last year.
However authorized organs say that the number of uncovered smuggling cases is much lower than in reality.