The current dry season appears to have been eased with a series of new soft drinks that have been launched onto the market, particularly in HCM City.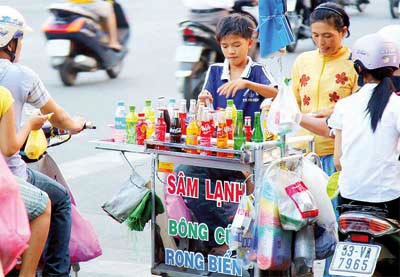 A soft-drink vendor on a street in HCM City. In the recent hot weather, soft drinks have been selling well. (Photo: SGGP)
Despite a reduction in consumer spending, demand for soft drinks has soared in the past few weeks.
At supermarket chains, such as Big C, Co-op Mart, Citimart, Vinatex and Maximark, soft drink products like C2 tea, Khong Do green tea, herbal tea, and lemon tea are all selling well.
At some wholesalers, such as Ly Thuong Kiet Trade Center, District 10, and Binh Tay Market, District 6, traders have increased their stock to meet the surge in demand.
  
The newest and best-selling product is "Dr Thanh", a kind of herbal tea, from the Tan Hiep Phat Group.
Its price has continuously risen, from an initial VND138,000 ($7.90) per crate of 24 bottles to VND148,000 and is presently VND163,000.
Meanwhile, Tan Quang Minh Trading and Production Co. will launch its latest product next month: A non-carbonated fruit juice, containing collagen and vitamins C and E.
Prices of soft drink offered to traders by producers are sometimes VND2,000 – 5,000 per crate higher than those put on sale at wholesale markets, some traders said.
Nguyen Thi Lien, the owner of a grocery store on Nguyen Thuong Hien, District 3, said Khong Do green tea is sold for VND125,000 per crate at wholesale markets, while it is sold for VND130,000 by producers.
Baley tea is another example; it sells for VND138,000 per crate at wholesale markets but VND143,000 by producers.
Sales of most non-carbonated soft drinks have increased by 20-30 percent year on year. 
Well-known soft-drinks companies like Coca Cola, Pepsico, Tan Hiep Phat are optimistic about future business, as they have gained a foothold on the market and the confidence of consumers.