Businesses and organizations themselves need to raise awareness of software ownership nowadays as intellectual property rights are increasingly upheld in the knowledge economy and becoming a global concern, a workshop in Ho Chi Minh City Oct. 12 heard.
In a highly integrated economy, respecting intellectual property rights is a precondition for a company to remain trustworthy, said Mr. Vu Ba Phu, Vice Director of the Vietnam Competition Authority, Ministry of Industry and Trade.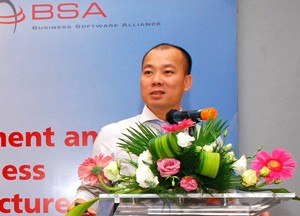 Vu Ba Phu, Vice Director of the Vietnam Competition Authority, addresses the workshop that updated intellectual property rights information in Ho Chi Minh City Oct. 12, 2011 (Photo: Tuong Thuy)
"If they can change their awareness of software ownership, businesses and manufacturers will see the use of licensed software as a part of their social responsibility and a way to show their ethics.
"This benefits the businesses themselves. It also builds a more reliable image for Vietnamese products and exporters in the eyes of foreign importers and distributors," he said.
He said the states of Washington and Louisiana in the US approved this June a new act on infringements of intellectual property rights in information technology, targeting at the use of unlicensed software. This is an alarming bell for businesses in Vietnam on the potential causality of software piracy.
Technically, the act was enacted to intercept illegal use of software overseas by pressuring US distributors to demand that exporters in a third country to stop using software illegally in their entire business chain, from warehousing, transportation to accounting and auditing, he said.
The act is applicable to any products that are made directly from the use of software or equipment involved with the infringements and products made by users of illicit software in distribution, promotion or sales, according to him.
"This seems to have proven a considerably effective protective instrument for developed countries. Ones cannot be sure that the act will be effective only in the two states without being taken to scale in the entire United States and even other parts of the developed world," said the vice director of the Vietnam Competition Authority.
According to him, the act may become a technical barrier to imported goods from Vietnam as most of manufacturers and exporters in the country are small and medium sized enterprises, and software ownership takes up a sizable part of their operation costs.
"This will indirectly affect the competitiveness of both the companies and their products. Because if manufacturers and distributors are not able to present a software ownership certificate, they may face the risk of not being allowed to sell their goods in the US market, particularly exporters of textile and sport items."
Also according to him, a second major threat would be a likely adoption of a higher anti-dumping tax against products imported from Vietnam.
Among his suggestions, Phu said Vietnam's businesses could make a difference for their products and the country in comparison with other businesses and other countries by complying fully with software ownership laws.
He said in this way, their products could be labeled "with licensed software", just like the "Eco product" label for ecological products, as a competitive edge and an element to be considered by consumers.
The Vietnam Competition Authority, Copyright Office of Vietnam, Inspectorate of the Ministry of Culture, Sports and Tourism, and Business Software Alliance co-held the workshop, titled "Software asset management and better competitiveness for Vietnamese manufacturers".
Addressing the workshop, the ministry's deputy chief inspector Pham Xuan Phuc said that last year task forces including his men and police officers raided 60 companies nation wide, mostly in Hanoi and Ho Chi Minh City, to check over computer software piracy. Most the inspected companies had some form of illegal use of computer software, and they received fines and orders to stop that use, he said.
So far this year, the inspectors have raided 50 companies and the task forces keep doing this job as a regular duty.
"Our inspectorate has continually stepped up efforts with consistent actions and more intensive inspections. This results in considerable reduction of computer software piracy year after year. In the years to come, we will keep up strong actions to prevent software piracy more effectively," Mr. Phuc said.