A workshop on organic shrimp farming was organized by the Overseas Vietnamese Business Club (OVBC), Viet My Thinh Joint Stock Company and the America-Vietnam Trade Center based in Seattle, USA.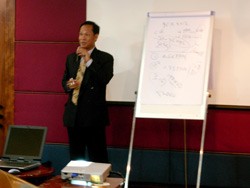 Tran Van Nguyen gives his presentation at the workshop (Photo: Tuong Chau)
Mr. Tran Van Nguyen, a Vietnamese American biochemistry expert, introduced shrimp raising methods used in the US, including those to protect shrimp breeds and the environment, prevent contamination, and increase the amount of farming seasons.

"Zero Exchange Concept" is a new shrimp-raising concept popular at shrimp farms in the US. It is a model of raising shrimps on land. Shrimps are raised in ponds with dilute sea water, which is poured into the shrimp raising pond only once and then reprocessed to use again and again for a year. Raising shrimps in greenhouses with the "Zero Exchange Concept" helps shrimp breeders almost fully control environment with modern shrimp hatching technical equipment. Therefore, farmers can harvest shrimps 4-5 times a year.

Present at the conference were former Deputy Minister of Fisheries Nguyen Hong Can, Executive Director of Viet Nam-America Commerce Center Joseph Nguyen, Executive Manager of Ho Chi Minh City Science and Technology Club, Dr. Tran Ha Anh, and shrimp raising businessmen.

The workshop was held at Equatorial Hotel, Ho Chi Minh City on March 28, 2006.
Related Link: