Publishers in Viet Nam are coping with the headache of illegally published books which are now flooding the book market. These illegal copies are very tempting to readers not only because of their cheap prices but also because of their good quality.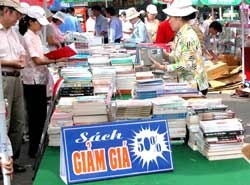 Legally-published books are sold at fifty percent off at a book fair

Gone are the days when illegally published books were printed in manual printing shops and brought into the market in the form of blurred copies; they are now printed in big printing factories with modern typesetting technologies that make almost mirror copies of the originals.

Although sold at cheap prices, sometimes just half those of the original copies, illegal copies always bring a fat profit to producers as they do not have to pay expenses related to royalties, marketing and advertising activities or remunerations for editing and illustration work. This results in unequal competition between legal and illegal copies.

In an effort to eliminate the presence of illegally published books in the market, in late June 2007 the Culture and Information Publisher revealed that it was going to republish famous author Dan Brown' s bestseller fictional novel "The Da Vinci Code" in the form of inexpensive paperbacks printed on medium-quality paper. It is estimated that the selling price of these copies will be around VND 50,000 each, just half as much as the selling price of those of the first printing.

Mr. Bui Viet Bac, director of the Culture and Information Publisher said, "By doing so, we hope we can turn readers away from illegal copies as they can buy legal ones of better quality, but at equal prices."

At present, many think that what the Culture and Information Publisher is doing will be a finishing stroke to producers of illegally printed books. At the conference organized by the Ministry of Culture and Information at the beginning of July in Vinh Phuc Province, representatives of many publishers viewed the solution of lowering the prices of legally published books as a final measure to fight against illegal published ones.

Mr. Pham Minh Thuan, director of Fahasa said, "The point is the quality of legal copies. So far, quality has been one of key criteria that help readers choose a book. If publishers reduce the selling prices of legally published books and at the same time lower their quality, they will liken original copies with illegal ones."

Reducing the prices of books does not mean that publishers will substantially diminish their quality. In fact, publishers will cut down publication expenses instead. Mr. Bui Viet Bac, however, admitted that the solution can only be applied to some popular book titles on which publishers have already recouped their expenses.

Reality indicates that many book titles are now being sold at prices that are beyond their real values due to unreasonable publication expenses. So far, this has been an opportunity for illegally published books to worm their way into bookstores. Unlike legal publishers that have to incur all kinds of expenses, illegal producers just simply make thousands of copies of legal books, which does not cost them much. They therefore can offer big discounts to distributors who are ready to put the illegal copies in circulation.

Mr. Pham Minh Thuan said, "The fight against the circulation of illegally published books will end soon if publishers only print copyrighted books and distributors only sell books that are legally published."

This may sound simple, but the fight against illegally published books only continues as long as there is solidarity between publishers and distributors. And the solution of reducing prices of legally published books is still being considered by many as an effective and final measure to fight against illegal publishers although it may seem to do more harm than good to the material as well as spiritual values of books.