After first penetrating the Vietnamese market in 1986, Korea's investment in Viet Nam hit at an all-time high last year, the Korean Trade Investment and Promotion Agency (Kotra) said.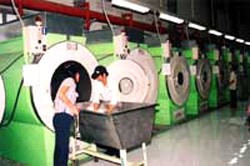 Workers operate an industrial washing machine at Korean-invested Doo Sol Vina, located at the Tay Ninh-based Trang Bang industrial zone
With a total registered capital of US$2.78 billion invested in 207 projects, South Korea beat out all the other heavyweight investors in 2006, including Hong Kong, Japan and the United States.
 
Kotra said Korean enterprises will continue to boost investment in key industries, and more small and medium companies will spread investment throughout the country.
 
Furthermore, some Korean enterprises have planned to relocate branches from China to Viet Nam, and Korean development capital will increase in the securities and realty sectors.
 
Korean heavyweights such as Posco, Samsung, Lotte and Kumho Asiana have been pumping more investment into Viet Nam, considering the country as a long-term strategic market in Asia.
Steel manufacturer Posco, plans to build a cold-rolled steel mill beginning in October 2007, aiming to complete construction by the end of 2009.
Retail operator Lotte Shopping, meanwhile, will break ground for its first overseas department store this year, hoping to open their doors to the public by next year.
According to Kotra, two-thirds of the Korean companies in Viet Nam are manufacturing operations, often in the textile and chemical sectors.
Kotra conducted a survey over November and December last year to assess Korean business performance levels.
The results showed that the number one reason Korean firms picked Viet Nam for investment was the economic boom taking place here which has led to rising domestic consumption levels. Others chose it because it acts as an export portal to other markets like the U.S., Europe and other ASEAN countries. Cheap labor rates came in as reason number 3.
Korean companies invested an average US$12.4 million to make inroads into Viet Nam where, they say, it takes less than a year to build a factory and make it fully operational, Kotra said.