Enterprises from South Korea are seeking to expand their business ventures in Vietnam following their President Lee Myung-bak's recent tour of Southeast Asia.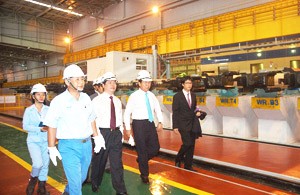 Vietnamese Industry and Trade Minister Vu Huy Hoang (3rd, R) and Posco CEO Chung Joon-yang (2nd, R) with other guests visit Posco-Vietnam's newly constructed cold-rolled steel plant during an opening ceremony in Ba Ria-Vung Tau Province October 19
South Korean conglomerates have taken interest in Vietnam as the country emerges as a stable trade partner after the two countries signed an agreement to enhance their bilateral relations to the level of strategic partnership.
 
South Korea's Posco, the third largest steel maker in Asia, has studied the feasibility of locations to build another steel plant in Vietnam after the inauguration of a cold-rolled steel facility in Ba Ria-Vung Tau Province on October 19.
 
Posco penetrated the Vietnamese market through a joint venture with a Vietnamese company before the two countries officially established their diplomatic ties in 1992.
 
Kumho-Asiana, another South Korean giant, also plans to continue its investment in a project to develop an urban area in Vietnam.
 
The conglomerate has also been keen on the country's transport sector, including air transport, with a plan to establish transport systems connecting Vietnam's cities with each other as well as linking Vietnam with regional countries.
 
Bilateral trade between Vietnam and South Korea is growing fast, reaching some US$10 billion in 2008. Leaders of the two countries have set a target of doubling the figure in 2015.