The biggest cable factory in Southeast Asia, the Taihan-Sacom joint venture plant in Dong Nai Province's Long Thanh Industrial Park, was inaugurated yesterday.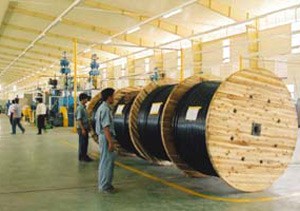 The telecommunication cable production line of the Taihan-Sacom Company
The new facility makes power, optic and telecommunication cables along with copper and aluminum rods.
The first medium and high-voltage power cables for local sale and export were produced on the inauguration day.
The US$40-million plant occupying 15 hectares employs more than 600 people and can turn out 25,000 tons of power cable and 6,000 tons of telecommunication cable per annum.
It also has workshops to cast and roll 6,000 tons of bronze and 20,000 tons of aluminum per year.
The TSC joint venture between South Korea's Taihan and the Vietnamese listed firm Cable and Telecommunication Materials (Sacom) has chartered capital of US$28 million. Taihan, one of South Korea's leading cable producers, holds a 70 per cent stake.