The Southern Fruit Festival 2013 opened at the Suoi Tien Cultural Park in District 9 of Ho Chi Minh City on June 1, displaying a wide variety of fruits.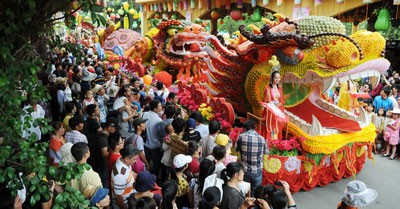 A view of the Southern Fruit Festival 2013 which opened in HCMC on June 1 (Photo: SGGP)
The three month long Festival will have a floating market in which 180 kinds of fruits will be sold, at a 20-40 percent discount.
Visitors will also have a chance to see a collection of 300 kinds of exotic or rare fruits of different sizes and from different regions of the country.
On this occasion, the HCMC Center for Agricultural Consultancy and Support will host a competition and help connect 100 fruit vendors from wholesale markets and supermarkets in the City.
Tons of fresh fruits will be available at very low prices. For instance, a kilogram of Rambutan will cost only VND2,000, Hoa Loc mango will cost VND13,000  and avocado only VND20,000.