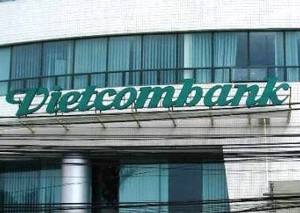 A Vietcombank sign at a building in Vietnam
Standard & Poor's Ratings Services said Friday that it had revised its outlook on the long-term rating on the Bank for Foreign Trade of Vietnam (Vietcombank) to stable from negative.
At the same time, the firm affirmed its 'B+/B' counterparty credit ratings on the Vietnamese bank, Standard & Poor's said in an announcement Sai Gon Giai Phong obtained late Friday.
The firm added it also revised the stand-alone credit profile (SACP) of the bank to 'b+' from 'b'.
"The outlook revision reflects Vietcombank's improved SACP after Mizuho Corporate Bank Ltd. (MCB; A+/Negative/A-1) acquired a 15% stake in the bank. We no longer factor extraordinary government support into the rating on Vietcombank," Standard & Poor's credit analyst Ivan Tan said in the statement.
"We revised Vietcombank's SACP to reflect the bank's improved capital position after the MCB deal," he added.
The firm said it believed that Vietcombank's more moderate loan growth following the Vietnam government's credit tightening measures would support the bank's capital sustainability.
"We expect that the bank will continue to strengthen its balance sheet through higher retained earnings contributions and sensible dividend payouts."
Mr. Tan said in the announcement, "The alliance with MCB will provide Vietcombank with an enhanced products and services offering, and accelerate the alignment of the bank's risk management system and processes with international best practices."
"It could improve the bank's earnings profile and mitigate potentially higher credit costs. Nevertheless, the successful execution of this alliance remains to be seen. It hinges on the ability of the two organizations to co-operate to bridge the difference in risk culture and operating norms," he added.
As part of the alliance, MCB will subscribe to 15% of Vietcombank's shares through a private placement of equity. The alliance will also involve provision of technical support, mutual cooperation, and opportunities for business partnerships with all Mizuho Financial Group companies.
Standard & Poor's says the long-term rating on Vietcombank is the same as the SACP. "We believe that Vietcombank has 'high systemic importance" in Vietnam and assess the Vietnam government as "highly supportive"".
Mr. Tan said in the announcement, "The stable outlook reflects our expectation that Vietcombank will maintain its strong market position and its financial profile despite challenging conditions and high inflation in Vietnam."