There's no doubt that the property market in Ho Chi Minh City has been heating up over the past few months, and nowhere more so than in districts 2, 7 and Nha Be.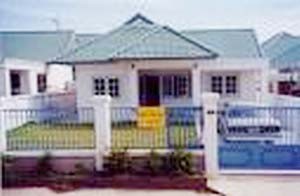 Price of property is now above its true value, and the people who actually need land and housing can no longer afford it
The situation has become so hectic that by the end of March thousands of people were queuing up to join a lottery for the chance to bid for the 40 apartments available in a 150-apartment project by the Phu My Hung Company.
As one prospective buyer pointed out, a Phu My Hung apartment now averages around three billion dong before VAT, or 50% more than a few months ago.
At a housing project in district 8 by the TS Company, the price per square meter has soared from VND11 billion to VND19 billion in just two weeks.
The mania does not stop there; it's been observed all over Nha Be and Saigon South. Real estate agents say the price of empty housing blocks has gone up by 150% and street-front lots by 200% in some places.
In An Khanh Ward, District 2, land for building a riverside villa costs VND45-50 million per square meter, an increase of VND10 million in a very short time. At the other end of the city, in far-flung Binh Chanh District, there are too few empty lots for the number of impatient property seekers.
An official from the Department of Natural Resources and Environment credits the booming prices in these areas to what he calls "good infrastructure and development orientation". In contrast, places like District 12, Go Vap, Binh Chanh, Hoc Mon and Cu Chi are not so appealing and the market is more subdued.
Needless to say, real estate agents are profiting mightily from the boom. The realty division of the Asia Commercial Bank handled 200 prospective buyers on April 2, or 30% more than in the previous week.  Mr. Vo Dinh Quoc, deputy director of the ACB's Real Estate Trading Center, said his office had arranged 28 sales in the last two weeks of March, more than double the 13 in the first two weeks of the month.
Asked why so much money was flowing into real estate, Mr. Hoang Anh Dung, director of Linh Phong-Conic Co., said it was something to do with the stock market and people withdrawing their savings from the bank because they didn't want to miss out and be left behind.
Taking a very different view, another industry insider blamed speculators and intermediaries for the frenzied bidding and soaring prices.
The trillions of dong flowing into just a few select areas has pushed the price of property way above its true value, and the people who actually need land and housing can no longer afford it.
Nobody knows when the mania will end but, as many realtors noted, the market will eventually revert to its mean and prices return to normality.