The Spring Economic Forum 2015 themed "Continuing to promote improvements in the business climate of Vietnam - turning Words into Action " opened in Vinh City in the central province of Nghe An on April 21.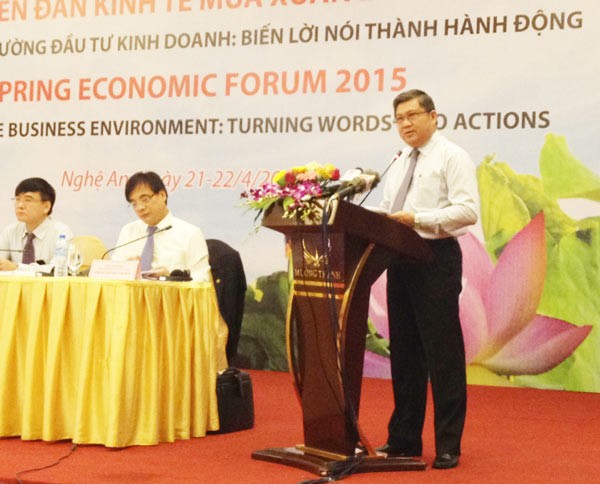 Chairman of the NA Committee for Economics, Nguyen Van Giau speaks at the opening ceremony of the forum.(Photo:SGGP)
Head of the National Assembly's External Relations Committee, Tran Van Hang; Chairman of the NA Committee for Economics, Nguyen Van Giau; Chairman and President Vietnam Chamber of Commerce and Industry, Vu Tien Loc; and representatives of relevant ministries and departments attended the event.

Economic experts and scientists will discuss and analyze the country's socio-economic situation in 2014 and focus on providing measures to improve the investment and business environment.

The country saw an economic growth rate of 5.98 percent in 2014, higher than the rate of 5.42 percent in 2013, said Dr. Tran Dinh Thien, head of the Vietnam Institute of Economics.

The recovery is still weak and unstable, not to exceed 6 percent, he added.

The industrial production in 2014 saw recovery in some fields, such as construction, real-estate market, retail and service and created about 1.6 million jobs.

Most of local businesses have showed weak competitive abilities, still used backward technologies and not interested in technology aptitude, research and development, according to insiders.

Deputy National Financial Supervisory Commission Chairman Ha Huy Tuan said that growth in gross domestic product is forecast to increase in 2015 and more positive than last year.

The forum will run until April 22.