We should change the way we think, look beyond the country and become part of the world community as it has shrunk, Deputy Prime Minister Vu Duc Dam said.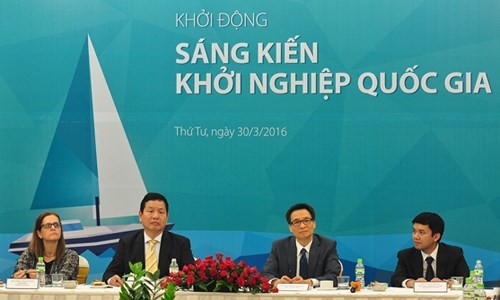 Deputy Prime Minister Vu Duc Dam (second from right).(Source: vnexpress.net)
This has been made possible thanks to closer connections and exchanges, Deputy PM Vu Duc Dam said while delivering the opening speech titled "Promoting National Entrepreneurship" during a National Start-up Initiative workshop took place in Hanoi on March 30.
Dam said suitable policies played an important role in creating a favourable environment and conditions for enterprises, including the start-up business community. However, just untying and removing obstacles to create a favourable environment and ecosystem was not enough. One needed to accelerate the implementation of these policies for everyone and all businesses to have opportunities to develop their start-up movement and strong growth.
The leader said that the strong growth of ICT today was making the world smaller. "We must change our thought process to grasp and bring into full play our advantages in science and technology."
The Deputy PM said that the Vietnamese government was willing to invest and join hands with private investors to support the national start-up initiative from inventors.
Dam made a promise that he would always support start-up businesses and the government would address problems facing start-up businesses as soon as possible.
"The Vietnamese government would continue to work with you to develop policies to create the most favourable conditions for the start-up community and incubators," Dam said.
Dean of Hanoi University of Technology Hoang Minh Son told participants that to make a success of the national start-up one needed to have excellent innovative ideas and a firm base of knowledge.
Son said businesses should assist young people in R&D and make them a driving force in joining the national start-up initiative programme.
At the seminar, participants also discussed such topics as the role of each component in the start-up ecosystem, how to build a start-up ecosystem from the perspective of science and technology, spotting the key problem which needs solving in order to promote entrepreneurship in Vietnam, as well as proposing initiatives to make Vietnam a start-up nation.
Also in the framework of the programme, FPT and Dragon Capital Group, signed a cooperation agreement for the establishment of the Vietnam Innovative Start-up Accelerator (VIISA for short). VIISA will be an open-ended fund with the participation of many large enterprises and investment funds. FPT and Dragon Capital Group are the founders.
The fund aims to train, invest and support start-up groups in the fields of information technology, mobile, Internet and finance so that they would become successful businesses. The first start-up accelerator training course of VIISA is expected to officially open in the second quarter of 2016.
The establishment of VIISA was in response to the national programme to build Vietnam's start-up ecosystem launched by the Ministry of Science and Technology. VIISA will create a new start-up ecosystem to help ensure that Vietnam will have 5,000 technology companies by 2020. The founders affirmed that they would try their best to make VIISA a centre to connect Vietnam's start-ups with businesses and investors around the world. Currently, FPT and Dragon Capital Group, are calling for more names among Top 500 enterprises in Vietnam as well as funds and start-up incubators worldwide to build and develop VIISA.
Executive Chairman of Dragon Capital Group, Dominic Scriven OBE, said, "We believe in the information technology and mobile revolution. We think the growth engine of the economy in the next decade will lie with innovative start-ups that we see today. By starting to work on this programme, we do hope to accelerate the commercialisation and the application of innovative technologies in Vietnam."
After the declaration of the establishment of VIISA, the founding members signed a memorandum of agreement on the development of start-up activities at universities and high schools including VNU University of Engineering and Technology, Hanoi University of Science and Technology, FPT University and Hanoi-Amsterdam High School.
The seminar was attended by around 50 guests from the Ministry of Science and Technology, Ministry of Education and Training, VINASA and representatives from other important components in the start-up ecosystem such as investment funds, enterprises, associations, and educational institutes.